Northern Argentina Birding Tour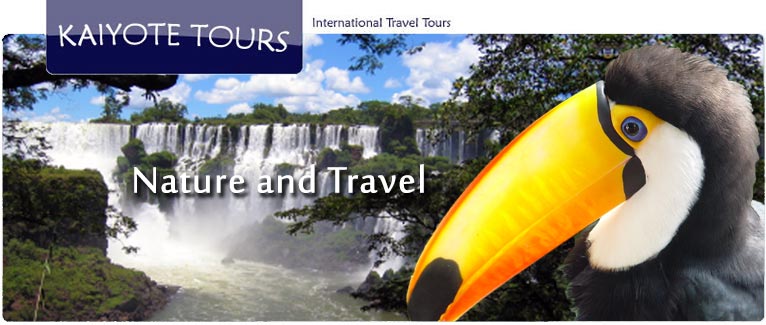 If you are interested in the Northern Argentina Birding Tour, come and join us at Kaiyote Tours!
Buenos Aires, Uruguay, Misiones, Brazil and Paraguay
Our trip to Northern Argentina is one of our most mellow and relaxing trips and on the next trip we will visit Buenos Aires, Uruguay, Misiones province of Argentina, Iguazu Falls, Brazil and Paraguay. On this tour we don't cover a lot of ground, but the places we visit are very dense with wildlife and beauty. This trip focuses on birds, insects and wildlife. Argentina is a wonderful country to visit. Iguazu Falls and the surrounding jungle is an amazing paradise for birds, wildlife, butterflies and flowering plants.
The name Argentina means "made of silver" in Italian. Spanish explorers arrived in the early 1500's and Buenos Aires was initially founded in 1536 by Pedro de Mendoza. Argentina has a population of 36.2 million and the capital city of Buenos Aires with 15.6 million in the metro area is nearly half of the total population. Buenos Aires means "good air" or "fair winds" in Spanish.
Argentina is a country of extreme and abundant diversity. Argentina's highest mountain is Aconcagua 22,831 feet and is the highest peak in the western hemisphere. The lowest point is Laguna del Carbón at -344 feet and is the lowest point in the western hemispheres. The north–south distance is 2,300 miles and the climate varies greatly; ranging from subtropical in the north to polar in the south. The weather is affected by the extreme changes in elevation, longitude and the warm Brazil ocean current and the cold Falklands current. Iguazu Falls includes 275 individual falls, making it the largest waterfall grouping in the world. It is a must see for everyone.
Argentina belongs to one of the largest ecosystems in the world with the greatest bio-diversity. Here are the stats: 15 continental life zones, 3 oceanic life zones including the Antarctic region, 9,372 vascular plant species, 1,052 bird species, 375 mammal species, 338 reptile species and 162 amphibian species. Argentina has 30 national parks helping to protect and preserve these habits and ecosystems for all life.
Buenos Aires is famous for the Tango, a musical genre and accompanying dance. The golden age of the Tango was from 1930 to mid-1950s and still today it is one of Argentina's international cultural symbols. Our last evening event in Buenos Aires will be to visit a Tango show.
Printable Bird List
(This is a checklist of the birds that we have seen on this trip)
Travel Dates: January 10 - 19, 2023
Group Size: 6 travelers
Trip Length: 10 days
Rates: Rate per person = $4,350 (based on double occupancy, $1,200 extra for solo traveler)
Rates include: Domestic transfers, lodging, breakfast, lunch, dinner, scheduled group tours, park entrance fees and basic travel insurance.
Not included: International airfare, customs & immigration fees and visas, alcohol, trip cancellation insurance.
Adventure level: Moderate, please check the "Welcome" page for definition

Visas needed for this trip: Argentina (free) obtain at airport. Paraguay (from Iguazu, only free to enter Ciudad del Este*). Brazil (free) obtained at border. Uruguay (free) obtain upon entry. The visits to Uruguay, Brazil and Paraguay are activity options and are not required if you do not wish to visit those countries.
Special offer: Included with your trip (one per room) is a copy of the field guide "Field Guide to the Birds of Colombia" by Miles McMullan. You will receive this when you reserve your trip so you will have time to study and know the beautiful birds of Colombia.
To view a photo album from a photographer who was on this tour, click here: Ersten Imaoka's Photo Album (opens new page)
Map of the travel route here: Argentina Map (this map will enlarge when clicked on, opens a new page)
If you would like to see recent photos click here: Newsletter Archives (opens a new page)
More photos can be found here: Photo Gallery (opens new page)
Basic Itinerary
Day 1: Arrival in Buenos Aires
Most flights from the United States are over-nights flights and you should schedule your flight for arrival on "Day 1". We will meet you at the Buenos Aires Ezeiza International Airport (EZE) with a shuttle to the hotel in downtown Buenos Aires. Activities for the day will depend on the time of your arrival.
Day 2: Buenos Aires
We will be staying close to the Reserva Ecológica Costanera Sur, which is a large nature reserve for birding and walking along the waterfront. Over 300 different species of birds have been seen on the park. We will spend the day birding the park where we usually see about 70 different species of birds.
Day 3: Colonia del Sacramento, Uruguay
Buenos Aires is located along a large fresh water bay that feeds into the Atlantic Ocean. The waterway is called the Rio de La Plata and just across the water is Uruguay. It is a 1-hour ferry ride to the city of Colonia de Sacramento in Uruguay. We will take the early morning ferry and spend the day in Colonia for birding and visiting the historic village of Colonia and return back to Buenos Aires in the evening. This is a good location to view: Brazilian Teal/Duck, Picui Ground Dove, Spot-winged Pigeon, Plumbeous Rail, Giant Wood-Rail, Spot-flanked Gallinule, Whistling Heron, Green-barred Woodpecker, Bran-colored Flycatcher, Chalked-browed Mockingbird, Hooded Siskin, Diademed Tanager and Great Pampa-Finch, just to name a few.
Day 4: Fly to Iguazu
From Buenos Aires it is a 2-hour flight to Iguazu Falls. We will be staying at lodge at the edge of the park where there are many opportunities for birding and viewing wildlife. The place of lodging has walking paths and a nearby animal reserve for viewing flora and fauna. The hotel itself is a great location for nature and birding; there are nice gardens and a swimming pool.
Day 5: Iguazu
In the morning we will head to the heart of Iguazu National Park to view the biggest waterfalls at the "Devil's Throat". There are numerous trails for viewing butterflies, monkeys, critters and birds. We will have lunch in the park and in the afternoon a visit to the hummingbird garden at "Jardin de los Picaflores" and visit other birding location near Iguazu. The Plush-crested Jay is friendly and abundant in the Iguazu National Park. Depending on the season, the Great-dusky Swift can be seen flying in and out of the falls, where it nests on the cliffs behind the water.
Day 6: Brazil and Paraguay
We will be taking a day trip to Brazil and Paraguay. We will leave early in the morning and be back in Iguazu, Argentina for lunch. In the afternoon, birding a wetland area near our place of lodging. (*It is preferred that you get a Paraguay visa in advance, but it is not necessary, please contact us to discuss your options.)
Day 7: Iguazu to Aristóbulo del Valle,
In the morning, birding the Iguazu area to view Toucans, Aracari, Tanagers and many other birds. In the afternoon it is a 3-hour drive to the Paranaense Forest area south of Iguazu for birding different types of habitat in Misiones. We will spend 2-nights at this location near Aristóbulo del Valle.
Day 8: Aristóbulo del Valle
A full day of birding: In the middle of the province of Misiones, in the Central Sierras and in the middle of the Green Corridor, there is a protected region known as the Paranaense Forest which is still pristine and as lush as ever. We will stay at an eco-lodge in the forest which has 120 acres and many wonderful trails for birding, wildlife viewing, waterfalls and bridges allowing visitors to surround themselves with nature and the splendid fauna and flora of the surroundings.
Day 9: Fly to Buenos Aires
In the morning it is a 2.5 hour drive to the Posadas airport and then a 1-hour flight back to Buenos Aires and we will be staying in the city close to the Reserva Ecológica Costanera Sur, which is a large nature reserve for birding and walking. In the evening we will have very special dinner and see a tango show.
Day 10: Fly home day
Shuttle to the airport for your trip home. Depending on when your flight departs, there will be free time for your last day in Buenos Aires.
Please note: The lodging described in this itinerary is always our first choice based on availability. Details of this trip are a little vague as it is VERY flexible. Destinations throughout the trip are based on the desires, ability and goals of the group.