Northern Argentina Birding Tour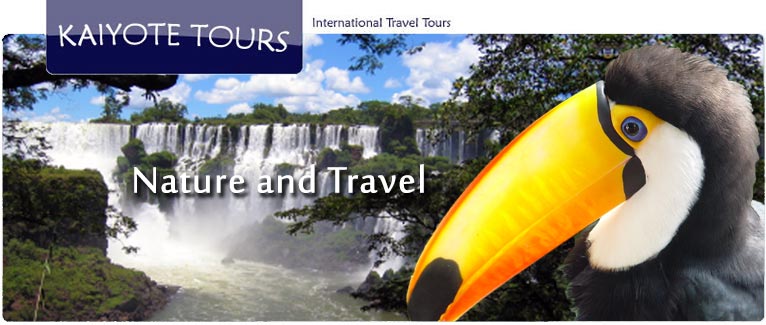 Buenos Aires, Uruguay, Misiones, Brazil and Paraguay
Our trips to Argentina is some of our most mellow and relaxing trip. We don't cover a lot of ground, but the places we visit are very dense with wildlife and beauty. This trip focuses on birds, insects and wildlife. Argentina is a wonderful country to visit. Covering nearly 2,200 miles from north to south, Argentina can offer a lot to a traveler.
1) Argentina: a 10-day tour that includes visits to Brazil, Paraguay and Uruguay. This tour visits Iguazu Falls and the surrounding jungle. This area is an amazing paradise for birds, wildlife, butterflies and flowering plants. It is a must see for everyone.
The Argentina trip comes with an optional 4-day extension that stops in El Salvador on the way to Buenos Aires. It is a nice stop and makes the trip to Argentina a lot more enjoyable. There are 3 days located along the Pacific Coast and one day in Buenos Aires. In El Salvador, we will be staying along an estuary that is full of birds and wildlife. Please check the El Salvador page for more details.
Printable Bird List
(This is a checklist of the birds that we have seen on this trip)
Travel Dates: January 27 - February 5, 2020
Group Size: 6 Travelers plus guides
Trip Length: 10 days (with a possible 4 day add-on stop to El Salvador)
Rates: per person = $3,850 (based on double occupancy)
Rates are:

Inclusive: Domestic transfers within South America, lodging, meals, scheduled group tours, entrance fees and Allianz travel health insurance.
Exclusive: International airfare, immigration fee, alcohol, personal expenses such as souvenirs, expenses relating to personal choices during free time and tips for guides. Visas needed for this trip: Argentina (free) obtain at airport. Paraguay (from Iguazu, free to enter Ciudad del Este only). Brazil ($70 eVisa) obtain in advance on-line. Uruguay (free) obtain upon entry. The visits to Brazil and Paraguay are activity options and are not required if you do not wish to visit those countries.
Itinerary
Day 1: Arrival day
Arrival in Buenos Aires. We will meet you at the airport with a shuttle to the hotel for one night in downtown Buenos Aires. We will be staying close to the Reserva Ecológica Costanera Sur, which is a large nature reserve for birding and walking along the water front. The hotel has a roof top swimming pool for viewing birds and city views.
Day 2: Uruguay
Buenos Aires is located along a large inlet from the Atlantic Ocean and just across the water, the Rio de La Plata, is Uruguay. It is a 1-hour ferry ride to the city of Colonia de Sacramento in Uruguay and a short 15-minute drive to Parque Embarcadero de Yates Riachuelo, where will be staying in cabins at the edge of this small reserve.
Day 3: Uruguay
The day will be spent walking, birding and exploring Parque Embarcadero de Yates Riachuelo and the Rio de La Plata shoreline. There are numerous trails in the area which also connect to other locations along the river and bay. This area is partially an estuary as well. Our place of lodging has wonderful gardens and a small swimming pool for relaxing.
Day 4: Buenos Aires
We will be taking the ferry back to Buenos Aires and staying in the city at a great location near the botanical gardens and other numerous parks. Buenos Aires is a city full of parks and natural areas which are great for birding and walking.
Day 5: Iguazu Falls
From Buenos Aires it is a 2-hour flight to Iguazu Falls. We will have 4 nights and 3 full days to visit this extraordinary area. The first 2 nights we will be staying within the national park at Hotel Melia Iguazu; the best place in town, which will give you unlimited access to the trails of Iguazu.
Day 6: Iguazu Falls
All day will be spent hiking the trails and visiting the numerous waterfalls within Iguazu National Park. The butterflies here are amazing, everyone you see is a different species. There are monkeys, critters and birds galore!
Day 7: Iguazu Falls
In the afternoon we will transfer to a new hotel at the edge of Iguazu. This area is close to walking paths and an animal reserve and there are great hiking trails here for viewing flora and fauna. The hotel itself is a great location for nature; there are nice gardens, a swimming pool and recreation area.
Day 8: Brazil and Paraguay
Today is out last day in the Iguazu area and we will be taking a day trip to Brazil and Paraguay. This day trip is optional and you are welcome to spend the day in Argentina at Iguazu.
Day 9: Buenos Aires
It is a 2-hour flight back to Buenos Aires and we will be staying in the city close to the Reserva Ecológica Costanera Sur, which is a large nature reserve for birding and walking. The hotel has a roof top swimming pool with great views of the reserve and water along Puerto Madero. In the evening we will have dinner and see a tango show!
Day 10: Fly home
Fly home. Travel to the airport and getting home is our only schedule activity for the day.
Please note: The lodging described in this itinerary is always our first choice based on availability. If we must book with our second choice, the lodging type and style is comparable.