Birding Taiwan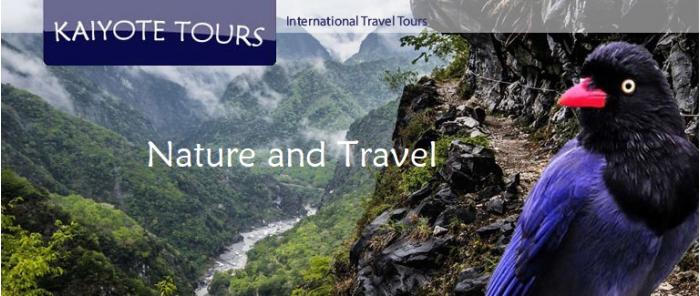 If you are interested in Birding Taiwan, come and join us at Kaiyote Tours!
Birding Taiwan, The Heart of Asia
Time to Travel to Taiwan: No visa required, officially bi-lingual with English as the second language, and non-stop flights from many cities in the United States. Check out more info about our tours and travel to Taiwan:
Taiwan is a very special place and is one of our favorite places! If you are a birder, in Taiwan you will find 32 endemic species, with nearly 700 species in total. If you are a nature lover, besides the beautiful birds, you will find wonderful forests, canyons, mountains, stunning coastlines, lots of butterflies, fantastic local people, many interesting mammals, and great food!! If you are a hiker, you will find great trails through the forests, mountains, and river canyons.
Taiwan is a small island located 110 miles off the coast of southeastern China. Although Taiwan maintains its own independent government, it is officially: "The Republic of China". Taiwan is about 1.5 times larger than the state of New Hampshire and has a population of nearly 24 million people. Taipei is the capital city and is located in the northern part of the country and 9.3 million people live in the Taipei–Keelung–Taoyuan metropolitan area. Artifacts dating back 30,000 years have been found on the island and the Taiwanese Aboriginals have lived in Taiwan for 6,000 years. Over the past centuries, there have been many occupying forces; the Dutch, Spanish, and Japanese, with China having the most control and influence. Today 85% of the population identifies as Han Chinese. Most Taiwanese are either Buddhist or Taoist and freedom of religion is in the constitution.
Taiwan is a mountainous country with over 268 peaks above 9,800 feet across the subtropical zone. Yushan (Jade Mountain, Mount Yu) is the highest point at 12,966 feet, 3,952m. Taiwan's culture is a blend of indigenous, Chinese, and Japanese influences that travelers can actually experience through tasting the island's creative culinary scene. Taiwan is also an advocate for human rights and is the first in Asia to legalize same-sex marriage. Enjoy a vacation in this scenic paradise. Don't miss out on this colorful and vibrant travel destination!
Through all the years of changes, the one thing that has not changed is the Taiwanese people's love of nature. Taiwan has 10 national parks covering a total of 1.9 million acres and every county has local forest preserves and parks. Taiwan is dominated by forested mountains and has 18 National Forest Recreation areas. The island is criss-crossed with a network of well-maintained hiking trails. Taiwan has 65 different fire-fly species, which are a beloved insect and protected in the country. Taiwan is home to abundant bio-diversity. Nearly 700 different bird species, 61 mammal species (including the endemic Formosan White-throated black bear), 92 reptile species, 30 amphibian species, 400 butterfly species and over 4,000 vascular plant species.
Taiwan is a very modern and developed country with all the conveniences and luxuries anyone could need. About 10 million foreign tourists visit Taiwan every year and the country has the best hotels and restaurants for a great travel experience. It is a free, democratic, and progressive society. You can visit Taiwan without having to get a visa in advance and much of the country is bi-lingual with English as the second language. Taiwan has a fantastic infrastructure including a wonderful rail system with bullet trains traveling 185 mph. We will take the train several times on the Taiwan tour, and it is a very nice and relaxing experience to travel on the trains. According to the U.S. Department of State, violent crime against foreigners is unusual, and overall violent crime rates in Taiwan are among the lowest in the world. Taiwan has modern medical facilities, with state-of-the-art equipment available at many hospitals and clinics. For many of the other countries we travel to, these things are not always the case and so there are no excuses not to go to Taiwan!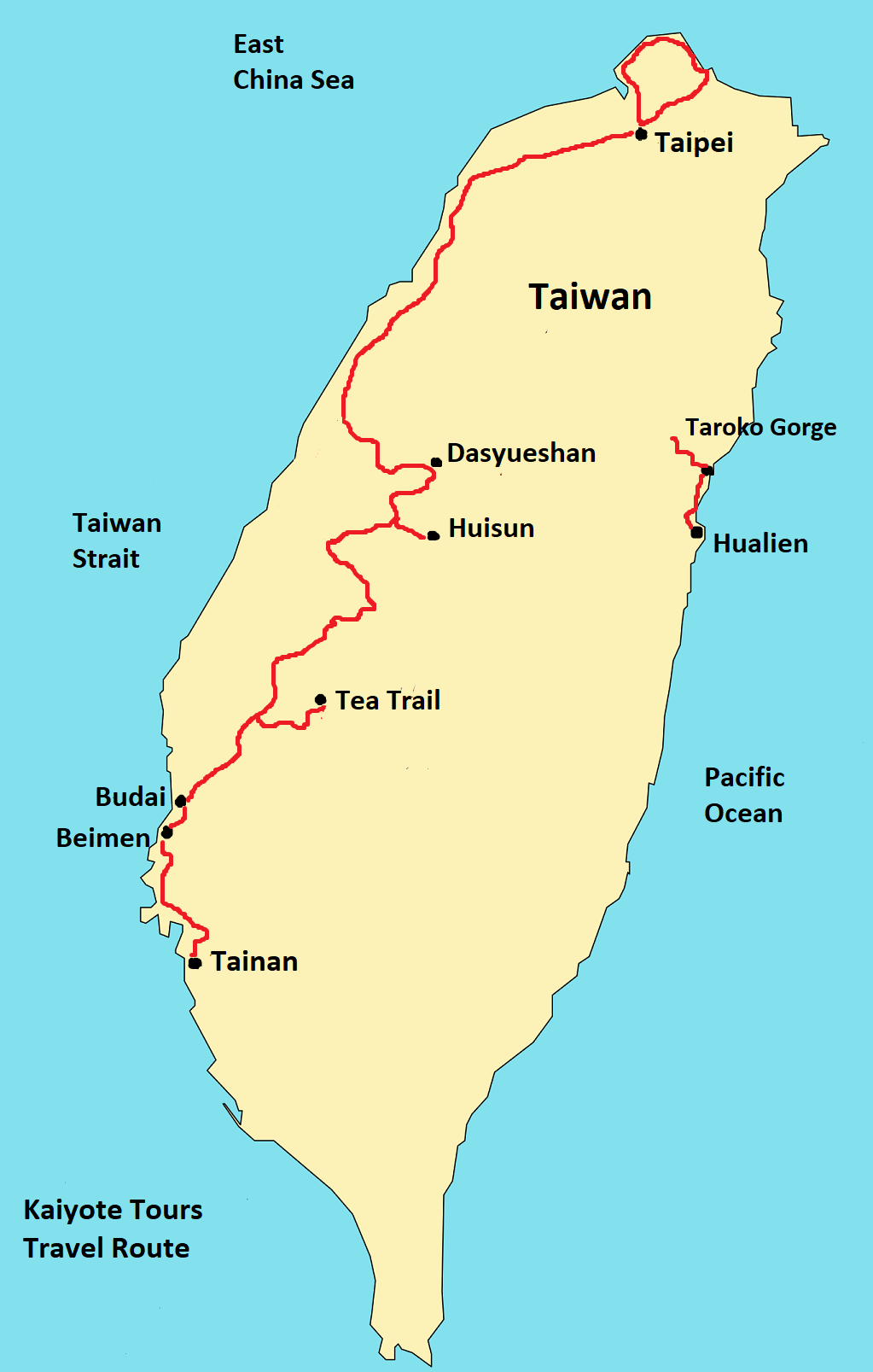 Printable Bird List
(Checklist of birds that we have seen on this trip)
Next tour: November 30 - December 10, 2023, Taroko Gorge 4-day extension December 11 - 14, 2023.

Spots left = 0

Spring Dates: March 14 - 28, 2024, This is a special birding trip that occurs during the peak cherry blossom season. This trip will have more cultural stops and more walking, (with options for hiking) than our other Taiwan tours. The route is similar to the itinerary posted below. Please contact us for the specific itinerary for this special tour.

Spots left = 4 (double occupancy only)

Fairy Pitta Dates: April 23 - May 7, 2024. This tour will spend more time in the Chaiyi area with time to find the Fairy Pitta. The itinerary will only be slightly different from the one posted below, with the 4-day visit to Taroko Gorge at the start of the tour. The total price of the tour is $5,150 per person double occupancy and an additional $1,200 for single.

Spots left 2024 = 0

2024: November 7 - 21, 2024,

Spots left = 10

2025: March 3 - 17, 2025,

Spots left = 10

Group Size: 10 travelers plus guides
Trip Length: 15 days
Rates Rate per person = $4,750 for double occupancy. Single occupancy is an extra $1,650.
Rates include: Domestic transfers, lodging, breakfast, lunch, dinner, scheduled group tours, park entrance fees and basic travel insurance.
Not included: International airfare, customs & immigration fees and visas, alcohol, trip cancellation insurance.
Adventure level: Moderate because of high altitude and stairs, please check "Welcome" page for definition.
High Altitude: Please be aware that this trip has two lodging nights at 5,700 feet (Ren'ai) and two nights at 7,500 feet (Dasyueshan). The Dasyueshan area has many stairs and a high point of 9,000 feet for a day trip on the mountian. Ren'ai has a high point of 10,750 for a day trip to Hehuanshan pass, which is the highest point on the Taiwan highway system. If you are concerned about the high altitude, you can skip the day trips to the higher elevations, and stay at the hotel for the day. The hotel areas are lovely locations to spend the day.
Travel Dates: Because of the extreme time change and long flight, you are welcome to arrive a day early. I will still be able to meet you at the airport and make the arrangements for early arrival at the hotel. By arriving early, you will be well rested when the tour starts and you will also be able to see more of Taipei and we will go birding and touring every day. The only added expense for you will be the extra nights at the hotel, (which is about $150/night per room), and your food.
Special offer: Included with your trip (one per room) is a copy of the field guide "Birds of Taiwan", by Wild Bird Society of Taipei. You will receive this when you reserve your trip so you will have time to study the beautiful birds of Taiwan.
Don't miss the Blue Magpie Video at the bottom of the page
Map of the travel route here: Taiwan Map (this map will enlarge when clicked on, opens a new page)
Basic Itinerary:
Changes to this itinerary for the November 2024 and March 2025 tours will be posted soon
Day 1: Arrival in Taiwan
Flights are overnight with arrival on day one. Flights arrive in Taipei at the Taoyuan International Airport (TPE) and you will be greeted at the airport and transported to the hotel in Taipei. Just across the street from the hotel is Da'an Park, which is a great place for walking and viewing local birds such as the Taiwan Barbet, Common Kingfisher, Black Drongo, Malayan Night-Heron, Spotted Dove, Grey Treepie, Black Bulbul, Light-vented Bulbul and Japanese White-eye.
Day 2: Taipei
Taipei is full of wonderful parks for walking and birding; it also has great museums and monuments. Evergreen Shipping has a very impressive Maritime Museum, one of the best we have ever seen. The Chiang Kai-shek Memorial Park has beautiful gardens and birds: Brown Shrike, Oriental Turtle Dove, Eurasian Magpie, Black Bulbul, Pale Thrush, Asian Glossy Starling and lack-collared Starling. We will visit the Taipei Botanical Gardens, where we will be able to see a few endemic bird species, like the Taiwan Blue Magpie, and where a Collared Scops-Owl likes to snooze during the day and of course, to see some very wonderful plants and gardens.
Day 3: Guanwu
First activity for the day will be an early morning bird walk at Da-an Park. Later in the morning we will travel to Guanwu National Forest. From Taipei it is a 3-hour drive Guanwu where we will be spending two nights at the Guanwu Lodge located within the national forest park at 6,500 feet. This is a birding hot spot for high elevation birds. Besides great birding and wildlife viewing, there are many miles of great hiking trails here as well.
Day 4: Guanwu
A full day birding at Guanwu National Recreation area.
Day 5: Dasyueshan
From Guanwu, it is a 3-hour drive to Dasyueshan National Forest where we will be spending two nights at Dasyueshan Lodge located within the recreation area at 7,500 feet. Dasyueshan is a mountain paradise with great wildlife viewing, birding, and many miles of great hiking trails.
Day 6: Dasyueshan
We will spend the day on the mountain ranging in elevations from 6,100 – 7,900 feet. You will have options to go birding, hiking and/or relaxing at the lodge and visitor center. There are nearly 20 endemic species at Dasyueshan, and this area is home to numerous mammals including macaques, giant flying squirrels, barking deer, serow, and we will see these animals both during the daylight hours and during nighttime exploring. Dasyueshan is a birding hot spot for Taiwan and also an important hiking area for locals.
Day 7: Guoxing and Huisun
Next lodging location on the tour is Guoxing and here we will stay at a great resort along the Pei Kong River, which has several hot spring pools and a large swimming pool for relaxing. But most impressive here is the "sky-walk" suspension bridge, which offers a great vantage point for birding and viewing very interesting insects. Although this area is not listed as a birding hot spot, it should be. In the evening hundreds of bats take flight from their riverbank roost, while Great Egrets, Intermediate Egrets and Little Egrets come home to roost. A short 30 minute drive from the resort is the Huisun National Forest Park and it is your choice to spend the day hiking, birding, or relaxing at the hammock park in the forest gardens. There are numerous butterfly species here and flocks of Taiwan Blue Magpie and Gray Treepies gather to feed and bath in the gardens. Huisun is one of our favorite places in Taiwan. This area is great for endemic species and birds in general including Minivets, Fulvettas and Laughing-thrushes. There are great walking trails and waterfalls here as well.
Day 8: Budai
From Guoxing, we will travel to the tea growing region on Nantou County and walk and hike along the Eryanping Tea Trail and there will be time a visit a tea house for tasting. The highest mountain in Taiwan is located not far from Nantou: Yushan (Jade Mountain) with an elevation of 12,966 feet. Numerous endemic birds, the Formosa rock macaque (Taiwanese rock monkey), as well as other mammals like the Formosa Black Bear live in the area of Alishan and Yushan. In the afternoon, we will travel to Taiwan's southwest coast where we will be staying in the city of Budai near the harbor; great area for shorebirds. Along the way we will stop at the Pheasant-tailed Jacana Education Center to view birds and enjoy a short walk, visit waterfalls, and find many birds like the Yellow Bittern.
Day 9: Budai
The area of Budai is along the southeastern coast of Taiwan and is a bird watchers paradise with numerous marshes, reserves, canals, and salt flats for viewing birds. The gem of them all is the Black-faced Spoonbill Reserve where numerous other species can be seen including Sacred Ibis, Eurasian Spoonbill, and many species of shore birds. The activity choices for the day are birding and/or hiking. In the evening near the oyster farms, sometimes as many as 20,000 whiskered terns come to roost and it is an amazing site to watch as the sun sets. Budai is a close to several significant historical and cultural areas. The day will be spent viewing birds and getting to know the Budai and Beimen townships.
Day 10: Taipei
Our travels will have brought us to southern Taiwan near the city Tainan, the oldest city and former capitol city of Taiwan, established by the Qing Dynasty in 1683. The Nankunshen Temple, which is one of the largest temples in Taiwan, is located just outside the village of Beimen. There will be time for birding and visiting temples. Many of the temples in Taiwan are very elaborate Taoist Temples. Everywhere we travel to in Taiwan, you will find birds. In the late afternoon, we will take the high speed train back to Taipei where will be staying across the street from the Da'an Park.
Day 11:
Changes to this itinerary day will be posted soon.
Click here: Bird list for Hualien and Taroko
Day 12: Taroko Gorge
We will be taking the train to the town of Hualien. A beautiful train ride along the coast and through seaside villages; about a 2-hour journey. We will be staying at a wonderful B&B in the town of Hualien. The B&B has a great 4th floor look-out for birding and from the house we have seen Styan's Bulbul, White-breasted Waterhen, Red-collared Dove, Blue Rock Thrush, Javan Myna and Crested Goshawk.

Day 13: Taroko Gorge
Taroko Gorge and National Park is one of the largest marble canyons in the world and it is spectacular. The day will be spent birding, walking and getting to know the geological and cultural history of this natural wonder. The cutest bird here is the Little Forktail.
Day 14: Hualien and Taipei
Close to Hualien is a beautiful small lake for birding and trails for hiking; we will spend the morning at the park. Birds to see: Tufted Duck, Great Cormorant, White-bellied Erpornis, Black-naped Monarch, Large-billed Crow, Rufous-faces Warbler, just to name a few. Later we will visit the seaside and beach for more birding and walking along the shoreline. We will take the train back to Taipei. Birds seen at this location: Black Kite, Crested Goshawk, Taiwan Barbet, Taiwan Blue Magpie, Taiwan Whistling Thrush, Grey Wagtail, just to name a few....
Day 15: Fly Home
There will be a shuttle to the airport for flights home.
Our local guide for Kaiyote Tours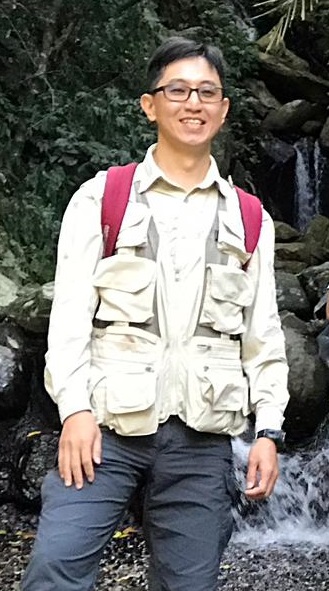 Jian Long Wu lives in Taipei and is a freelance bird guide and translator. Wu, as he likes to be called, translated the field guide "Birds of Taiwan", written by the Wild Bird Society of Taipei from Chinese to English. He is also the eBird regional reviewer for Taiwan and its islands including Kinmen and Matsu. We have one of the top birders as our local guide.