El Salvador Birding Tours Wildlife Adventure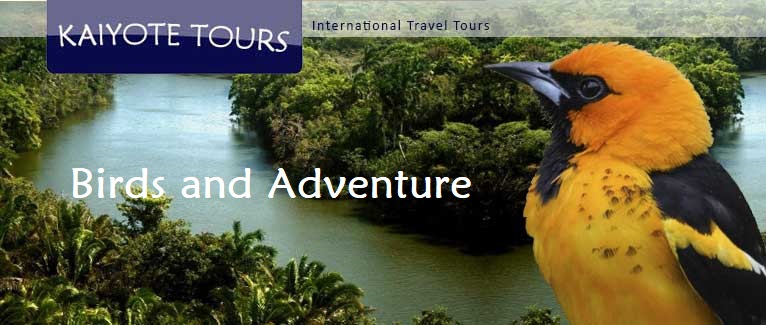 If you are interested in the El Salvador Birding Tours Wildlife Adventure, come and join us at Kaiyote Tours!
The Pacific Coast Estuaries, Suchitoto and Lago Suchitlán
We are offering a very special trip to El Salvador.
Here is some info about El Salvador: El Salvador is a small Central American country about the same size as the state of New Jersey and El Salvador is less than half the size of Costa Rica. With a population of 6.3 million, it is the most densely populated country in Central America. El Salvador was colonized by the Spanish in 1524 and became an independent nation in 1841. The name El Salvador is Spanish for "The Savior".
Cerro El Pital is the highest point in El Salvador at 8,957 feet above sea level. El Salvador is located along the Pacific "Ring of Fire" and has had many highly destructive earthquakes in recorded history. The country has over twenty volcanoes and two are active. El Salvador lies within the tropic zone; north of the equator and south of the tropic of Cancer.
Biodiversity: 605 species of birds, 25 hummingbird species, nearly 1,000 species of butterflies, 362 species of orchids, 90 species of mammals, just to name of few.
This is a checklist of birds that we have seen in the summer on our shorter 4-day trip (prior to the pandemic), when the northern migrants where gone. We have since added four more days to the trip, with additional locations and we expect to see many more birds on the next trip. We prefer to travel during at the "edge" of the rainy season, which is May and October. It will rain some, not a lot, and it is green and beautiful.
Travel Dates: October 18 - 25, 2023
Group Size: 6 Travelers plus guides
Travel Dates: October 12 - 19, 2024
Group Size: 6 Travelers plus guides
Trip Length: 8 days
Rates: Rate per person = $2,850 ($900 extra charge for single occupancy)
Rates include: Domestic transfers, lodging, breakfast, lunch, dinner, scheduled group tours, park entrance fees and basic travel insurance.
Not included: International airfare, customs & immigration fees and visas, alcohol, trip cancellation insurance.
Adventure level: Easy, please check the "Welcome" page for definition
Private Trips: We are increasingly taking people on private trips. If a group trip does not interest you, please contact us about a private tour and the dates you prefer.
Special offer: Included with your trip (one per room) is a copy of either "Birds of Central America: Belize, Guatemala, Honduras, El Salvador, Nicaragua, Costa Rica, and Panama" (Princeton Field Guides 2018) by Andrew Vallely and Dale Dyer. This book is great, but large and heavy. Or you can choose "Birds of Mexico and Central America" (Princeton Field Guides 2006) by Ber Van Perlo. This book is small and travels well. You will receive this when you reserve your trip so you will have time to study and know the beautiful birds of El Salvador.
To view a photo album from a photographer who was on this tour, click here:
Ersten Imaoka's Photo Album (opens new page)
Map of the travel route here: El Salvador Map (opens a new page)
Basic itinerary
Day 1: Fly to El Salvador
Arrival at the El Salvador International Airport Oscar Arnulfo Romero (SAL). You will be met at the airport and shuttled to the place of lodging along the Pacific Coast, which is about a 30-minute drive to the Hotel Rancho Estero y Mar. Activities for the day depend on the time of your arrival. We will be staying 2-nights on the Pacific Coast at Playa El Pimental.
Days 2: Rancho Estero y Mar
Hotel Rancho Estero y Mar is beautifully located on the Pacific coast, on the beach, but also at the edge of a wonderful estuary. This area is great for birding, exploring, swimming in the ocean, kayaking the river, and relaxing. The hotel has four swimming pools and numerous hammocks for relaxing. There will be boat tours, birding walks and nighttime exploring.
Day 3: Suchitoto
A morning of birding the estuary and forest of the San Luis area. The hotel sits nestled in between the Pacific Coast, the estuary and slough, and La Montaña Bosque Santa Clara Reserve, which is abundant with birds, butterflies, and interesting insects. In the afternoon we will travel to the small colonial village of Suchitoto. From the Pacific coast it is a 2 hour drive to Suchitoto, where we will be staying for two nights. Suchitoto was originally founded in 1528 and is a beautiful historic colonial town. It is also a birding hot spot with a wonderful natural environment.
Day 4: Suchitoto
Just outside of Suchitoto there are several great birding spots for the day. This area also processes indigo, and we will be visiting an organic indigo farm and have a chance to see fabrics dyed at a local artisan co-op. After dinner there will be an evening tour to look for night birds and critters.
Day 5: Los Naranjos
Early morning departure and birding at the Santa Ana Volcano and Cerro Verde National Park. This is a wonderful area for birding and walking. Just outside the national park is a beautiful area called Los Naranjos, where we will spend 2-nights.
Day 6: Los Naranjos
A second day of birding the Santa Ana Volcano area and Cerro Verde National Park. Close to the park is Lago de Coatepeque, which is an amazing crater lake surrounded by dense cloudforest at an elevation 2,248 feet
Day 7: Rancho Estero y Mar
From Los Naranjos, we will travel to Parque Nacional El Imposible (The Impossible National Park), where we will spend the morning birding in this lowland rainforest. In the afternoon, it is a 2-hour drive back to Playa El Pimental on the Pacific Coast where we will spend out last night in El Salvador.
Day 8: Fly day
Most flights leave in the morning and so getting to the airport will be the only organized activity for the day.