El Salvador Birding Tours Wildlife Adventure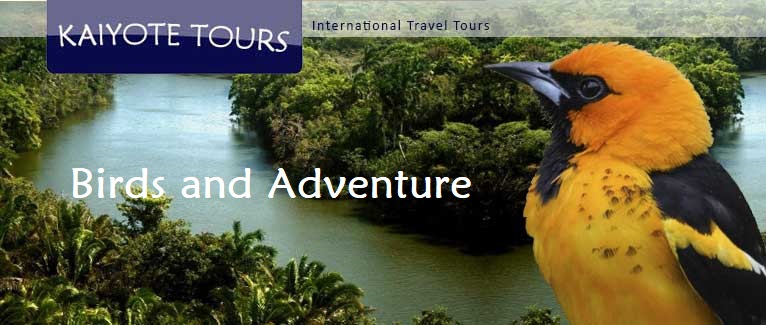 If you are interested in the El Salvador Birding Tours Wildlife Adventure, come and join us at Kaiyote Tours!
The Pacific Coast Estuaries, Suchitoto and Lago Suchitlán
We are offering a very special trip to El Salvador.
Here is some info about El Salvador: El Salvador is a small Central American country about the same size as the state of New Jersey and El Salvador is less than half the size of Costa Rica. With a population of 6.3 million, it is the most densely populated country in Central America. El Salvador was colonized by the Spanish in 1524 and became an independent nation in 1841. The name El Salvador is Spanish for "The Savior".
Cerro El Pital is the highest point in El Salvador at 8,957 feet above sea level. El Salvador is located along the Pacific "Ring of Fire" and has had many highly destructive earthquakes in recorded history. The country has over twenty volcanoes and two are active. El Salvador lies within the tropic zone; north of the equator and south of the tropic of Cancer. The climate has two main seasons: the dry and the wet. Due to elevation changes and other geographical features, weather can vary within the country, but generally November - April are the dry months and May through October is the wet season. During the month of June, the average rainfall is about 5.5 inches, which is nearly the same as Houston Texas.
Bio Diversity: 605 species of birds, 25 hummingbird species, nearly 1,000 species of butterflies, 362 species of orchids, 90 species of mammals, just to name of few.
Travel Dates: June 23 - 28, 2019 and special requested dates
Group Size: 6 Travelers plus guides, spaces left for 2019 = 2
Trip Length: 6 days
Rates: Rate per person = $2,350 (no single supplement)
Rates include: Domestic transfers, lodging, breakfast, lunch, dinner, scheduled group tours, entrance fees & Allianz travel health insurance.
Not included: International airfare, customs & immigration fees and visas, alcohol, trip cancellation insurance.
Adventure level: Moderate, please check the "Welcome" page for definition
Special offer: Included with your trip (one per room) is a copy of either "Birds of Central America: Belize, Guatemala, Honduras, El Salvador, Nicaragua, Costa Rica, and Panama" (Princeton Field Guides 2018) by Andrew Vallely and Dale Dyer. This book is great, buy large and heavy. Or you can choose, "Birds of Mexico and Central America" (Princeton Field Guides 2006) by Ber Van Perlo. This book is small and travels well. You will receive this when you reserve your trip so you will have time to study and know the beautiful birds of El Salvador.
Map of the travel route here: El Salvador Map (opens a new page)
If you would like to see recent photos click here: Newsletter Archives (opens a new page)
More photos can be found here: Photo Gallery (opens new page)
Basic itinerary
Day 1: Fly to El Salvador
Arrival at the El Salvador International Airport Oscar Arnulfo Romero (SAL). You will be met at the airport and shuttled to the place of lodging along the Pacific Coast, which is about a 30-minute drive to the Hotel Rancho Estero y Mar. Activities for the day depend on the time of your arrival.
Days 2: Rancho Estero y Mar
Hotel Rancho Estero y Mar is beautifully located on the Pacific coast, on the beach, but also at the edge of a wonderful estuary. This area is great for birding, exploring, swimming, kayaking the river and relaxing. There will be boat tours, birding walks and night time exploring.
Day 4: Rancho Estero y Mar
A full day of birding the estuary and forest of the San Luis area, with evening and nighttime exploring. The hotel sits nestled in between the Pacific Coast, the estuary and slough, and La Montaña Bosque Santa Clara Reserve, which is abundant with birds and wildlife.
Day 4: Suchitoto
From the Pacific coast it is a 2 hour drive to the small mountain village of Suchitoto, where we will be staying for two days. Suchitoto was originally founded in 1528 and is a beautiful historic colonial town. It is also a birding hot spot with a wonderful natural environment. We will be staying at the finest place in town.
Day 5: Rancho Estero y Mar
Back on the Pacific Coast for more birding, exploring, swimming, kayaking, boat tours and night time exploring. There are enough birds, activities and interesting sights to fill several days worth of seeing new birds and wildlife and having new experiences.
Day 6: Fly day
Most flights leave in the morning and so getting to the airport will be the only activity for the day
Please note: The lodging described in this itinerary is always our first choice based on availability. Details of this trip are a little vague as it is VERY flexible. Destinations throughout the trip are based on the desires, ability and goals of the group.