Amazon Birding Colombia Tours Amacayacu Park Bogota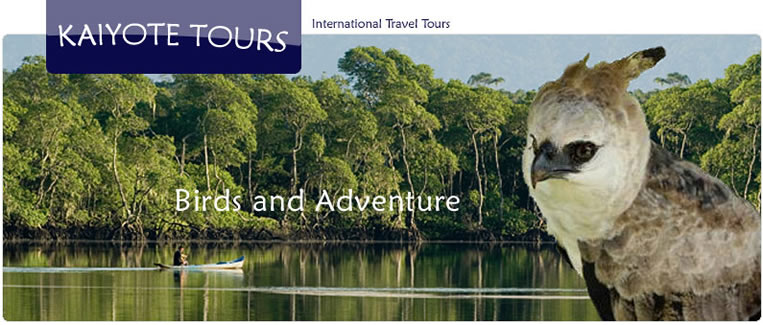 If you are interested in Amazon Birding Colombia Tours Amacayacu Park Bogota, come and join us at Kaiyote Tours!
The Amazing, Amazing Amazon
Colombia is fascinating. From the deep blue Pacific Ocean and the crystal-clear Caribbean Sea to the Andean mountain peaks rising to 18,700 feet and back down to the Amazon Basin; Colombia is stunning and a true adventure to explore. This trip focuses on birds and wildlife. There are about 1,850 species of birds that travel through Colombia and 73 endemics.
Printable Bird List
(This is a checklist of the birds that we have seen on this trip)
Travel Dates: November 19 - 26, 2022
Group Size: 4 travelers plus guides
Trip Length: 8 days
Rates: Rate per person = $3,650 ($900 charge for single occupancy)
Rates include: Domestic transfers, lodging, breakfast, lunch, dinner, scheduled group tours, park entrance fees and basic travel insurance.
Not included: International airfare, customs & immigration fees and visas, alcohol, trip cancellation insurance.
Adventure level: Adventurous, please check the "Welcome" page for definition
Special offer: Included with your trip (one per room) is a copy of the field guide "An Illustrated Field Guide to the Birds of Colombia" by Fernando Ayerbe Quinones. You will receive this when you reserve your trip so you will have time to study and know the beautiful birds of the Amazon.
Map of the travel route here: Colombia Amazon (opens new page, this map you can click on to enlarge)
For recent photos click here: Newsletter Archives (opens new page)
More photos can be found here: Photo Gallery (opens new page)
Basic Itinerary
Day 1: Arrival in Bogotá
Upon arrival at the El Dorado International Airport in Bogotá (BOG), you will be met at the airport and it is about a 45-minute drive to the hotel located in the historic district of La Candelaria in downtown Bogota.
Day 2: Bogotá
Located near the airport is Florida Park. This small natural area is a perfect spot to find the endemic Bogota​ ​Rail​. Other interesting species to be found include endemic Apolinar's​ ​Wren​, a fairly common bird of tall cattails. The endemic subspecies of the Yellow-hooded Blackbirds are normally present and conspicuous, but Noble Snipe and Subtropical Doradito are rather rare and more difficult to see. Small numbers of Spot-flanked Gallinule are usually present in open water and also to be seen is the Silvery-throated Spinetail and Rufous-browed Conebill, Band-tailed Seedeater, Lesser Scaup, Andean Siskin, Andean Teal, Black Flowerpiercer, as well as many other birds. Today will also be a chance to get to know the city of Bogotá. In the afternoon, there will be a historical walking tour of La Candelaria and the hotel neighborhood.
Day 3: Leticia
This day will begin our Amazonian leg of the trip. We will fly 2-hours to Leticia, Colombia, which is a small town on the Amazon River where the borders of Colombia, Brazil and Peru meet. We will spend the day in the Leticia area for birding and the night's lodging. Birds: Zimmer's Woodcreeper, Castelnau's Antshrike, Horned Screamers, Spangled Cotingas, Bare-necked Fruitcrow, Amazonian Umbrella birds, Hauxwell's Thrushes, Solitary Black Caciques, Gray-winged Trumpeter,
Day 4: Puerto Nariño
From Leticia it is a short boat ride up the Amazon to the village of Puerto Nariño, which will be our base for exploring the Amazon for the next 3-days. The village has about 6,000 residents and no motorized vehicles are allowed. This is a remote and tranquil area, full of birds and natural wildlife. Harpy Eagles nest in this area, while the pink dolphin surface in the river and yes, there are Piranhas here. Birds we are likely to see are Ferruginous Pygmy-Owl, Short-tailed Nighthawk, Common Pauraque, Chestnut-capped Puffbird, Scarlet-crowned, Gilded, Lemon-throated Barbets, Orange-fronted Plushcrown, Rusty-belted Tapaculo, Lawrence's Thrush and Yellow-bellied Dacnis, just to name a few. Puerto Nariño is located at the edge Amacayacu Natural National Park. The consists of 1,620 square miles (which is over 1-million acres). The park is home to nearly half the bird species found in Colombia. Amacayacu has 150 species of mammals, including pink dolphins, tapirs, jaguars, manatees and otters. Numerous primate species reside in the park including the very special Golden Lion Tamarin, the smallest in the world. Reptiles include Jabuti Tortoise, which is the largest fresh water tortoise in the world and Black Alligators. There are boa constrictors and anacondas. Among the fish are the parcucú and the piranhas.
Day 5: Puerto Nariño
Today we will take a journey to nearby Lake Tarapoto, which is known for pink dolphins. Here there will be opportunities to see dolphins, monkeys and a lot of birds. Possible birds for the day: Canary-winged Parakeets, Orange-cheeked Parakeets, Maroon-tailed Parakeets, Short-tailed Parrots, Orange-headed Tanager, Band-tailed, Casqued Oropendolas, White-plumed Antbird, Fiery Topaz, Pearly Antshrike, Yellow-browed Antbird, White-eyed Tody-Tyrant, Plum-throated Cotinga, Rufous-bellied Euphonia, Tropical Screech-Owl, Crested, Black-banded Owls. Besides the wonderful birds and wildlife that reside in the Puerto Nariño area, the plant life is unique and beautiful. The area is famous for Lotus Flowers and Victoria Amazonica which is a lily species and the largest species in the Nymphaeaceae family of water lilies. The lily pads can be up to 10 feet in diameter. The flora and fauna of the Amazon are stunning and a must see for everyone.
Day 6: Leticia
After some morning birding along the river and reserve, we will begin our travels back to Bogota. From Leticia, it is 2-hour flight back to Bogotá and we will overnight at a hotel near the airport.
Day 7: Bogotá
Close to Bogota is a Chicaque Nature Reserve. Chicaque has been protected since 1891. Inaugurated on April 20, 1990, it was the first private reserve in Colombia. It protects one of the last remaining oak forests near the capital. Totals 750 acres with hundreds of species of birds and mammals such as sloths, northern tiger cat, Mountain Paca, nocturnal monkeys and porcupines. Chicaque is the source of pure water for San Antonio del Tequendama.
Day 8: Fly home
Today is "fly-day" and you will be shuttled back to the Bogota airport for your flight home.
Please note: The lodging described in this itinerary is always our first choice based on availability. Details of this trip are a little vague as it is VERY flexible. Destinations throughout the trip are based on the desires, ability and goals of the group.