Birding Paris and Brittany France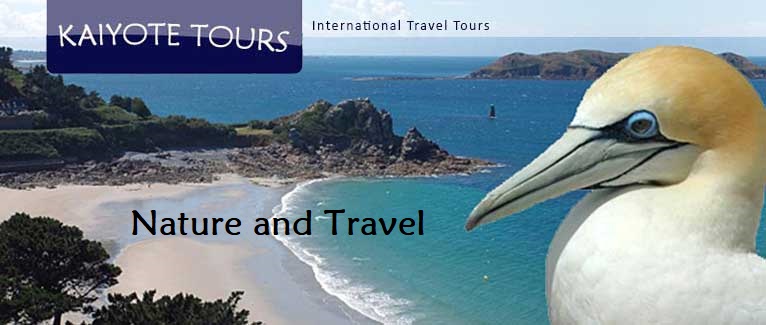 If you are interested in Birding Paris and Brittany France, come and join us at Kaiyote Tours!
Birding: Paris and Brittany, France
This tour combines birding, art, and cultural options. You will enjoy this tour if you only wish to see Paris, Brittany, walk the land and enjoy the sights. You will enjoy this tour if you only wish to see the birds of Brittany. On this tour, we will spend three full days in Paris. Paris is one of the art centers of the world. Not just for the collections that the museums hold, but for the inspiration is still gives to artists today. On this tour we will be taking the train to Brittany and spend 4-days visiting three very idyllic and historic villages: St-Malo, Saint Suliac, and Mont Saint Michel. Each day there will be time for birding, walking, exploring and learning. Where a better place to enjoy crepes and the French countryside, but in Brittany? Voila!!
Printable Bird List
(This is a checklist of the birds that we have seen on this trip)
Travel Dates: April 4 - 13, 2023 and requested dates
Group Size: 6 travelers plus guides
Trip Length: 10 days
Rates: Rate per person = $3,850 (based on double occupancy)
Rates include: Domestic transfers and travel within France, lodging, breakfast, lunch, dinner, scheduled group tours, park entrance fees and basic travel insurance.
Not included: International airfare, customs & immigration fees and visas, alcohol, trip cancellation insurance.
Adventure level: Easy, please check the "Welcome" page for definition
Special offer: Included with your trip (one per room) is a copy of the field guide "Birds of Europe", by Lars Svensson. You will receive this when you reserve your trip so you will have time to study and know the beautiful birds of France.
Map of the travel route here: France Map (this map will enlarge when clicked on, opens a new page)
If you would like to see recent photos click here: Newsletter Archives (opens a new page)
More photos can be found here: Photo Gallery (opens new page)
Basic Itinerary
Day 1: Paris Arrival Day
Flights from the states are over-night and your arrival should be on day one at the Charles de Gaulle International Airport (CDG). You will be met at the airport and shuttled to the hotel. Activities for the day will depend on your arrival time.
Day 2: Paris
On this tour there will be three days in Paris. If you are most interested in Birding: Over 400 species of birds have been seen in Paris. The Bois de Boulogne, which is a 2,100-acre park with woods and gardens just on the western edge of Paris, has a bird list of over 200 species and is one of the best birding areas in Paris. Pére Lachaise Cemetery, besides being the resting place for numerous great artists, writers and composers including Frédéric Chopin, Molière, Eugène Delacroix, Camille Pissarro, Oscar Wilde and Jim Morrison, is an good place to see birds. If you are most interested in Art: There are so many museums and sights in Paris, it could never be accomplished in three days, but let us know your priorities and we will make it happen. We will have time to walk down the Champs Élysées and see the Arc de Triomphe.
Day 3: St Malo, Brittany
It is three-hour train ride to St-Malo on the TGV. The TGV (pronounced tay-zsah-vay) is one of the fastest trains in the world and can travel over 200 miles an hour. We will be staying in the heart of the old town and there will be plenty of time for walking and sightseeing within the city walls and birding along the beautiful coast and local parks. We will make St Malo our home-base for 4-nights and explore the area as day trips.
Day 4: St Malo, Brittany
St-Malo is a beautiful walled fortress and city. Construction of this amazing place began in the 12th century. St Malo was home to François-René Chateaubriand (1768 – 1848) who is considered the founder of Romanticism in French literature. Jacques Cartier (1491 – 1557), an explorer who claimed what is now Canada for France, was from St Malo. St Malo has also been the home to many pirates… years ago. St Malo is located at the mouth of the Rance River and is a fishing and sailing area as well.
Day 5: Mont Saint Michel, Normandy
On this day will take a day trip to the amazing Mont Saint Michel in Normandy; this ancient and massive abbey is a sight to see. Starting 1200 years ago, this village and abbey is built on an island that is revealed when the tide comes in. This area is excellent for birding and we will drive the coastal area for birding and walking.
Day 6: Saint Suliac, Brittany
Six miles up the Rance River valley from St Malo is another fishing and sailing village called Saint Suliac. St Suliac is a very old village founded nearly 1500 years ago by a Welsh monk who came to spread Christianity to the area. The quaint and picturesque village of Saint Suliac is nice for walks and nature. There are trails that lead in both directions from the village, along the river. The Rance River estuary is at its widest at Saint Suliac (1.3 miles), creating splendid landscapes between the rolling green hills and the deep-blue water. Saint Suliac was recently listed among the most beautiful villages in France and its architecture is protected by national laws.
Day 7: Paris
It is a 3.5-hour train ride back to Paris on the TGV train. We will have time in the afternoon to visit the Rodin Museum, Musee de l'Armee des Invalides and/or birding locations of your choice. If you are an opera fan, it might be possible to see an opera while we are in Paris at either the modern Opéra Bastille or the historic Palais Garnier.
Day 8: Paris
A full day visiting Versailles, one of the most spectacular palaces in the world. Here you will find spectacular art, design, and beautiful gardens and forests for birding. Over a hundred different species of birds have been observed on the grounds.
Day 9: Paris
Our last full day in Paris. Time to visit all the classic sights of Paris like the Eiffel Tower, La Basilique du Sacré Coeur, sights of your choosing, go birding or try to do it all!
Day 10: Fly Home
Flights usually leave in the morning, so getting to the airport and getting home is our only activity for the day.
Please note: The lodging described in this itinerary is always our first choice based on availability. Details of this trip are a little vague as it is VERY flexible. Destinations throughout the trip are based on the desires, ability and goals of the group.