Santa Fe Opera and Birding Tours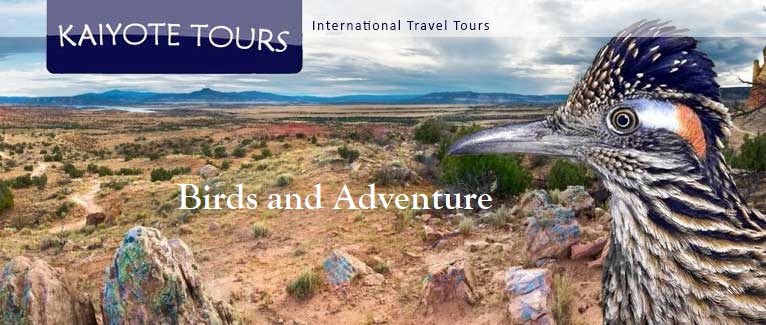 If you are interested in the Santa Fe Opera and Birding Tours, come and join us at Kaiyote Tours!
Santa Fe Opera Festival 2019
Every year the Santa Fe opera performs 5 separate operas and for one week every year in August, the Santa Fe Opera performs all five operas. There will be Southwest birding every day. There will be morning and afternoon bird walks and trips to culturally significant sites and there will be free time for you to visit the great city of Santa Fe.
Opera Pavilion: The Santa Fe Opera is an outdoor pavilion that is completely covered and so no concern for getting rained on during the evening rain showers and when an evening rain shower does come by, it is beautiful to watch is pass by; to smell the rain and watch the lighting safe from your opera chair. In the arid Southern Rockies, rain comes by as isolated short-lived storms and is always welcome and wonderful.
Beautiful Walks: There will be visits to the La Cieneguilla Petroglyphs, the Rio Charma Valley, Santa Fe National Forest, Valles Caldera National Preserve, Bandelier National Monument, Hyde Memorial State Park, Randall Davey Audubon Center, Georgia O'Keeffe Museum in Santa Fe, Georgia O'Keeffe' s Ghost Ranch in Abiquiu, Pecos National Historic Site and historic walking tours of Santa Fe.
Audubon Center: At the edge of Santa Fe is the Randall Davey Audubon Center & Sanctuary. Birds to see: Steller's Jay, Spotted Towhee, Northern Mocking Bird, Sage Thrasher, Canyon Towhee, Vesper Sparrow, Northern Roughed-winged Swallows and Yellow-headed Blackbirds.
Santa Fe Mountains: About 30 minutes outside of Santa Fe are the arid Ponderosa Pine mountains of the Southwest. This is the southernmost area of the Southern Rockies. Home to many unique birds that love the arid west: Juniper Titmouse, Pinyon Jay, Cordilleran Flycatcher, Clark' Nutcracker, Mountain Chickadee, Cassin's Finch, Western Tanager and Townsend's Solitaire.
Georgia O'Keeffe: The Ghost Ranch, just outside Santa Fe was the home, studio and inspiration for many of Georgia O'Keeffe's paintings. The 21,000 acres ranch is and museum is open to the public. We will spend the day here birding and walking and being inspired by this wonderful landscape. Favorite birds here: Black-billed Magpie and the Broad-tailed Hummingbird.
Lodging: We will be staying for seven nights at a family owned B&B, located just a 10-minute walk for the historic downtown of Santa Fe. Each room is a small suite with plenty of open space, a sitting area, kitchenette and decorated with beautiful southwest design in an historic adobe building.
Preview Dinners: The Santa Fe Opera has wonderful pre-opera talks and dinners. For three nights, dinner will be at the opera restaurant and every night we will attend the opera pre-talk discussion.
Picnic Dinners: The Santa Fe Opera is famous for its "tailgating" parties before the opera. There will be three nights that we will have a picnic dinner at the opera. It is a unique and fun experience at the Santa Fe opera and people show up early and "tailgate" for dinner. The opera house also sells picnic baskets to accommodate these activities. The opera house opens the parking lot 3-hours early to accommodate tailgaters. The opera house is located about 15 minutes north of Santa Fe surrounded by a beautiful arid southwest landscape of mesas, pinyon pines, chamisa and sagebrush. The weather in August is perfect; warm and dry during the day and cool, with occasional showers in the evening.
If you are a birder and an opera lover, you will not want to miss this event.
If you are not an opera lover, you can sign up for the daytime activities without the opera, there is a price deduction.
Highlights:
World premier opera by composer Poul Ruders, The Thirteenth Child.
Birding tours every day in the beautiful state of New Mexico.
Visiting Georgia O'Keeffe's Ghost Ranch home and studio in Abiquiu.
Great southwest cuisine.
Seeing a great opera every night!
Printable Bird List
(This is a checklist of birds that we have seen on this trip)
Travel Dates: August 4 - 11, 2019 (annual trip, dates vary each year)
2020 Info: Dates: August 2 - 8, 2020
Group Size: 10 travelers,

spaces left for 2019 = 4

Trip Length: 8 days
Rates Rate per person = $3,950 (based on double occupancy)
Rates include: Lodging, breakfast, lunch, dinner, Santa Fe opera tickets for five nights, daily birding tours, museum and park entrance fees
Not included: Airfare to Albuquerque
Adventure level: Easy, please check the "Welcome" page for definition
Special note: If you are not an opera fan, it is possible to join the tour at a reduced price that does not include the opera concerts: $2,850 (based on double occupancy)
Special offer: Included with your trip (one per room) is a copy of the field guide "Sibley Birds West: Field Guide to Birds of Western North America" by David Allen Sibley. You will receive this when you reserve your trip so you will have time to study and know the beautiful birds!
2019 Itinerary
Day 1 Sunday August 4: Fly to Albuquerque, New Mexico
Arrival day: No scheduled activities
Dinner: TBD
Evening night-time exploring: TBD
Day 2 Monday August 5
6:00am – 8:00am: Santa Fe Canyon
8:00am – 9:00am: Breakfast
9:00am – 12:00pm: Randall Davey Audubon Center, Santa Fe Canyon
12:00pm – 1:00pm: Picnic lunch
1:00pm – 3:00pm: Tour of historic Santa Fe
3:00pm – 5:00pm: Afternoon break
5:00pm: Leave for opera
5:30pm: Pre-view dinner buffet and opera talk
8:00pm: Cosí Fan Tutte (1790) Wolfgang Amadeus Mozart
Day 3 Tuesday August 6
6:00am – 8:00am: La Cieneguilla Petroglyphs, Leonora Wetlands
8:00am – 9:00am: Breakfast
9:00am – 12:00pm: Hyde Park, Aspen Vista and ski area
12:00pm – 1:00pm: Picnic lunch
1:00pm – 3:00pm: Black Canyon and Chamisa trails
3:00pm – 5:00pm: Afternoon break
5:00pm: Leave for opera
5:30pm: Pre-view dinner buffet and opera talk
8:00pm: Jenůfa (1904) Leoš Janáček
Day 4 Wednesday August 7
6:00am – 8:00am: Community College ponds, airport area, Caja del Rio
8:00am – 9:00am: Breakfast
9:00am – 12:00pm: Rio Chama Valley, Abiquiu Lake, Carson National Forest
12:00pm – 1:00pm: Picnic lunch
1:00pm – 4:00pm: Georgia O'Keeffe' s Ghost Ranch, Abiquiu, Echo Amphitheater
4:00pm – 5:00pm: Afternoon break
5:00pm: Leave for opera
5:30pm: Tailgate picnic dinner at the opera
7:00pm: Opera talk
8:00pm: La Bohème (1896) Giacomo Puccini
Day 5 Thursday August 8
6:00am – 8:00am: Santa Fe Canyon
8:00am – 9:00am: Breakfast
9:00am – 12:00pm: Bandelier National Monument, White Rock, Los Alamos
12:00pm – 1:00pm: Picnic lunch
1:00pm – 4:00pm: Valles Caldera National Preserve
4:00pm – 5:00pm: Afternoon break
5:00pm: Leave for opera
5:30pm: Tailgate picnic dinner at the opera
7:00pm: Opera talk
8:00pm: The Pearl Fishers (1863) Georges Bizet
Day 6 Friday August 9
6:00am – 8:00am: Santa Fe River trail, Alto Park, Acequia trail
8:00am – 9:00am: Breakfast
9:00am – 12:00pm: Pecos National Historic site, Pecos River, Galisteo
12:00pm – 1:00pm: Picnic lunch
1:00pm – 4:00pm: Cochiti Lake
4:00pm – 5:00pm: Afternoon break
5:00pm: Leave for opera
5:30pm: Tailgate picnic dinner at the opera
7:00pm: Opera talk
8:00pm: The Thirteenth Child (2019 world premier) Poul Ruders
Day 7 Saturday August 10
6:00am – 8:00am: Leonora Wetlands Preserve, El Rancho Golondrinas
8:00am – 9:00am: Breakfast
9:00am – 12:00pm: La Cieneguilla Petroglyphs, Botanical Gardens
12:00pm – 1:00pm: Picnic lunch
1:00pm – 3:00pm: Historic Santa Fe and Museum Hill
3:00pm – 5:00pm: Afternoon break
5:00pm: Leave for opera

(This concert is sold out)

5:30pm: Pre-view dinner buffet and opera talk
8:00pm: Renée Fleming sings "Letters from Georgia" composer Kevin Puts
Day 8 Sunday August 11
Departure day: You will be transferred from your hotel in Santa Fe to the Albuquerque airport