Santa Fe Opera and Birding Tours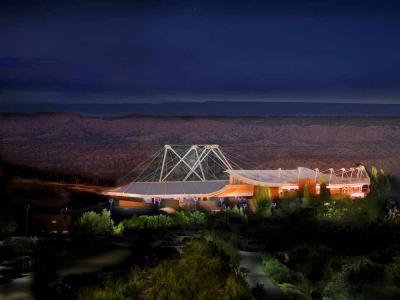 Santa Fe Opera Festival 2019
Every year the Santa Fe opera performs 5 separate operas and for one week every year in August, the Santa Fe Opera performs all five operas. In 2019 after the festival week of operas, Renée Fleming will be performing a one-time concert. There will be Southwest birding every day.
If you are a birder and an opera lover, you will not want to miss this event.
Highlights:
1) Renée Fleming makes her Santa Fe opera debut singing the Letters of Georgia by composer Kevin Puts for this one-time performance concert.
2) World premier opera by composer Poul Ruders, The Thirteenth Child.
3) Birding tours every day in the beautiful state of New Mexico.
4) Visiting Georgia O'Keeffe's Ghost Ranch home and studio in Abiquiu.
5) Great southwest cuisine.
6) Seeing a great opera every night!
Travel Dates: August 4 – 11, 2019 (8 day tour)
Group Size: 10 travelers, Rate per person = $3,870 (based on double occupancy)
Rates are: Inclusive: Lodging, breakfast, lunch, dinner, Santa Fe opera tickets for five nights, Renée Fleming concert, daily birding tours, museum and park entrance fees, travel medical insurance
Exclusive: Airfare to Albuquerque, alcohol, trip cancellation insurance
Day 1, Sunday August 4: Fly to Albuquerque, New Mexico
Arrival day: You will be greeted at the Albuquerque airport and transferred to your hotel in Santa Fe.
Day 2, Monday August 5
Morning birding: Randall Davey Audubon Center & Sanctuary, Santa Fe
Opera: Cosí Fan Tutte (1790) Wolfgang Amadeus Mozart
Day 3, Tuesday August 6
Birding: Hyde Memorial State Park and the Santa Fe National Forest
Dinner: Opera pre-view dinner at the opera house
Opera: Jenůfa (1904) Leoš Janáček
Day 4, Wednesday August 7
Morning birding: Rio Charma Valley, Abiquiu and Carson National Forest
Afternoon: Georgia O'Keeffe' s Ghost Ranch and studio in Abiquiu
Dinner: Tailgate party at the opera
Opera: La Bohème (1896) Giacomo Puccini
Day 5, Thursday August 8
Birding trip: Bandelier National Monument and Valles Caldera National Preserve
Dinner: Tailgate party at the opera
Opera: The Pearl Fishers (1863) Georges Bizet
Day 6, Friday August 9
Birding: Randall Davey Audubon Center & Sanctuary, Pecos National Historic site
Dinner: Tailgate party at the opera
Opera: The Thirteenth Child (2019 world premier) Poul Ruders
Day 7, Saturday August 10
Birding: La Cieneguilla Petroglyphs and surrounding open space
Concert: Renée Fleming sings "Letters from Georgia" composer Kevin Puts
Day 8, Sunday August 11
Departure day: You will be transferred from your hotel in Santa Fe to the Albuquerque airport