International Travel Schedule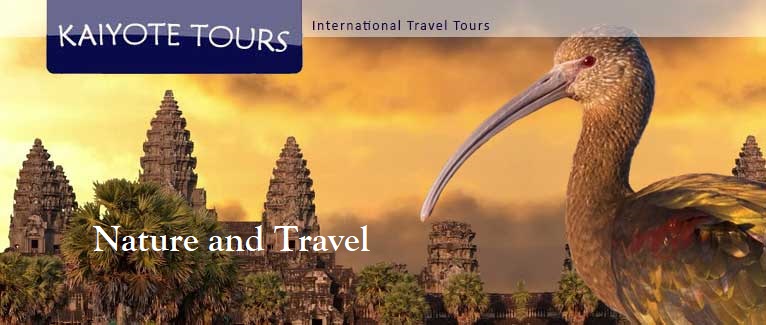 International Travel Schedule
Below is our approximate International Schedule
We do not visit all the countries every year; some of the destinations happen on alternate years or special occasions or only upon special request. Please see the individual web pages for each country for more details.
January
Argentina: Iguazu, Birds, and Butterflies, 10 days

- This tour visits Iguazu falls for fantastic birding and butterfly watching. We start the tour in Buenos Aires, with a couple of days in Uruguay.
Panama, 12 days: Harpy Eagles, and Birds, Birds, Birds
February
Colombia: Birding the Amazon, 16 days - The flora and fauna in the Colombia Amazon is as good as it gets! We visit Amacayacu Natural National Park.

Nicaragua: Cloud Forest, 10 days

- A trip to the mountains and cloud forest, which is also the coffee growing region of Nicaragua. This is one of the best birding areas in Nicaragua.
March
Sri Lanka: Birding and Relaxing, 10 days

- This is probably one of our most mellow trips. Sri Lanka has many beautiful birds and forests, but also beautiful beaches for swimming and relaxing.
India: Birding Tour for Vegetarians, 10 days - This tour starts in New Delhi and visits the most beautiful areas of northern India.

Nepal: Mountain Birds, 10 days

- February is a great time to visit Nepal when there is snow up high in the mountains, but the lower elevations are snow free with plenty of great birding. This tour focuses on birds with some easy walking to experience the Himalayan wilderness.
April
France: Brittany, 10 days - We will be taking the train to Brittany and visit three very idyllic and historic villages: St-Malo, Saint Suliac and Mont Saint Michel.

France: Camargue, 10 days

- We will be taking the train to the Rhone River Delta area known as the Camargue and visit the birding areas and three historically significant towns: Avignon, Arles and Saintes Maries de la mer.
May
Iceland:

The Vestmannaeyjar Islands, 7 days -

Puffin Heaven

Iceland: The Southwest, 10 days

- Glaciers, volcanoes, geysers, waterfalls and thermal pools - there is so much to see in the southwest and a visit to the Vestmannaeyjar Islands to view puffins.

Iceland: The Northeast, 11 days

- This trip travels to remote areas of Iceland to view, sea marine life and wonderful birds. Great hiking and thermal pools can also be found in the Northeast. Up close to puffins and northern gannets.
June
Iceland: The Westfjords, 10 days

- Birds and hiking – the stunning west coastline is full of beauty and life. Puffins, seabird colonies and arctic foxes.
Sweden: The Southwest, 10 days -

The thick forests of the Kullaberg Peninsula and the sunny seashore cliffs of Hovs Hallar. There will be time for birding, hiking and nature loving.

Åland Islands: Birding and Midsummers' celebration, 10 days -

If you love birds, boats and maritime history, this trip is for you. The Åland Islands are a very special place and we will be visiting some very unique locations.
July
Nicaragua: Volcanoes, 10 days

- Nicaragua has 20 volcanoes, many of which are still active. On this tour we will be traveling along the "Ring of Fire" and visit crater lakes and Lake Nicaragua.

Nicaragua: The Pacific, 10 days

- The beautiful Pacific Ocean coast has several great estuaries for birding. And if you ever wanted to learn how to surf, this is the place, the water and surf is great.
August
Santa Fe, New Mexico: Opera and Birding, 7 days - If you love opera and birding, this is the trip for you. Every August the Santa Fe Opera performs all five opera in one week. On this tour, every day we go birding in the Santa Fe Area and every evening, we go to the opera!
September
Nicaragua Caribbean Corn Islands, 10 days -

The islands are surrounded by reefs and numerous shipwrecks which have made the area a great destination for snorkeling, diving and of course there are birds too.

Mongolia: Birds of the Asian high plateaus, 10 days

- Mongolia is very unique and special place. On this tour you see the birds and meet the people of the amazing culture and learn about Mongolian history.
October
Sarawak, Malaysia: Northern Borneo, 10 days - This tour is all about birds and wildlife of the northern part of the island of Borneo; wildlife includes wild Bornean Orangutans.
Japan: 10 days - Birding and culture tour of Osaka, Kyoto and Nara
November
Taiwan: Birding the Island, 10 days

- This is a very special trip for both birders and hikers. For birders, we will be participating in the Taiwan Bird-a-thon and for hikers; we will be spending time in the mountains and along the coast.
Taiwan Taroko Gorge:

The Marble Canyon, 5 days

- After the 10-day Taiwan tour, we offer a 4 day extension to the Taroko Gorge and its towering marble cliffs.
December
Colombia: Birding the Andes and Paramos, 16 days

- Colombia is a wonderful and beautiful country to travel through and the birding is simply fantastic!
Stockholm:

Christmas, 8 days

- Christmas is a lovely time to be in Stockholm; beautiful and serene and lots of holiday fun. We also have a special winter solstice celebration on this tour.
Iceland:

New Year's Eve, 7 days

- Reykjavik has a New Year's Eve party that you will never forget; the fireworks last for days! Northern lights and winter fun.

Estonia: New Year's Eve, 8 days

- Start the New Year in the beautiful medieval city center of Tallinn, Estonia. Great food, Great History, Great Celebration and Great Winter Birding.
Below are a few destinations that we visit on request
Iceland:

Winter Fun, 7 days

- Iceland offers many winter adventures such as great winter birding, thermal hot springs, hiking, the northern lights and the Golden Circle.

El Salvador: Birding, Wildlife and Biodiversity, 6 days

- This very small country is home to 605 species of birds, 25 hummingbird species, nearly 1,000 species of butterflies, 362 species of orchids, 90 species of mammals, just to name of few.

Nicaragua: Rainforest, 11 days

- This trip travels to remote areas along the Rio San Juan where you will see amazing trees, plants, monkeys, birds and all sorts of critters in the Nicaragua rainforest.

Korea: Winter Birding, 10 days

- Korea is an area where the birding is best in the winter, there are a lot of birds wintering in Korea like cranes. Korea is a great country for travel; the food and accommodations are wonderful.