Colorado Birding and Wildlife Viewing Tours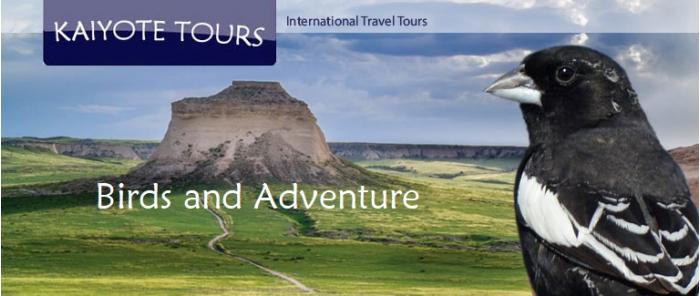 If you are interested in Colorado Birding and Wildlife Viewing Tours, come and join us at Kaiyote Tours!
We organize birding and nature tours throughout Colorado. We offer a complete range of activities and tours in Rocky Mountain National Park. Please go to that page for more info on tours within Rocky Mountain National Park.
Single Day Trips: If you only need to book a tour by the day and will supply your own lodging, the price is $365 per day for 1 - 2 people and $45 for each additional person. Price includes lunch, snacks, and water to refill your water bottle.
Multi-day Tours
Special offer: Book a multi-day tour and included with your trip (one per room) is a copy of the field guide "Sibley Birds West: Field Guide to Birds of Western North America" by David Allen Sibley.
The Colorado Big Loop Tour
The great changes in Colorado elevation creates habitat diversity: Arid high plains, grasslands, shrublands, foothills, montane, sub-alpine, alpine and riparian areas. This tour will visit areas of elevation from 4,865 to 12,183 feet. The diversity of plants, birds and animals is something to experience. The landscape is spectacular.
Click here for a detailed Itinerary of the 8-day Colorado Big Loop Tour
Let us know what dates work for you
Click here for a list of BIRDS we have seen in Colorado
Price: 8-day "car-camping" tour at state park and national park campgrounds is $2,280 per person (based on double occupancy). 8-day birding tour at hotels/cabins is $2,920 per person (based on double occupancy). Please contact us for solo traveler rate.
Tours include: Food and lodging/camping gear (hotels or car-camping at state and national parks).
Lodging: We recommend "car-camping" tours because we will see more birds and wildlife while staying at the campgrounds. We have wonderfully comfortable tents and sleeping pads. If you choose to join a tour that provides hotels/cabins, the stops and locations are approximately the same. The hotel/cabin lodging is basic, not fancy.
Gear you need to bring: Outdoor clothes including hiking boots, rain jacket and pants and warm clothes, including hats and gloves. The mountains can be cold even in the summer. Everyone should have their own head lamp and/or flashlight, refillable water bottle, day pack for hiking and a personal small emergency kit.
Meals and Restaurants: We travel with a mini-Weber Charcoal Grill, and we can grill steaks, hamburgers, chicken, or fish. Sometimes we have hotdogs and s'mores on the fire. We also travel with a Dutch Oven and cook shrimp stir-fry, pasta dishes and other delicious meals. We can accommodate vegetarians and vegans, no problem! Breakfast will be cooked on the grill or on the fire at camp. Lunch will be picnic style, sandwiches, fruit, etc. Dinner will be cooked on the grill or on the fire at camp.
Electricity: There will be electricity at some of the campsites. We travel with a lithium generator, and you will have access to power for recharging your equipment.
Campfires: Most all locations permit campfires (when there is not a fire ban).
Showers: There are pay showers at most of the local and state park campgrounds.
Custom Tours
We also offer custom tours. You can choose lodging at either campgrounds or hotels. Please let us know if you have specific birds and/or wildlife that you would like to see and how many days you would like to tour Colorado. Please request an itinerary and we will send you the day to day details of the tour.
Details
Travel Dates: By request or join an already scheduled trip
Group size: 2 - 6, plus guide
Trip Length: Minimum of 3 days (2 nights) and custom as you choose.
Price: Car-camping tours at state and national park campgrounds are $285 per person, per day. Tours at hotels/cabins are $365 per person, per day. Prices based on double occupancy.
Included: Hotel/cabin lodging or car-camping gear: Tents, sleeping bags and sleeping pads. All cooking supplies: Stove, fuel, pots, pans, plates, bowls, cups, utensils, etc. Food: Breakfast, lunch, and dinner. Drinks: Water, coffee, tea, hot chocolate, hot cider, juice, soda.
Not included: Entrance into national parks (if you already have a pass, bring it along), snacks in between meals.
Gear List
If you need gear, we can supply it at no extra charge. Just let us know in advance.
Suggested to bring:
1) Backpack for your gear
2) Rain gear or rain poncho or umbrella
3) Refillable water bottle
4) Sunscreen and bug spray
5) Hats for both sun and warmth
6) Binoculars
7) Wear Layered comfortable clothes.
Payment and Cancellation Policy
Single-day tours: Full payment is due 72 hours prior to tour. There are no refunds within 72 hours of tour.
Multi-day tours: A non-refundable payment of $600 per person is requirement to reserve a spot on a trip. Full payment is due 90 days prior to departure date. If you are reserving a spot within 90 days of start date, full payment is required to reserve a spot.
We accept Visa, MasterCard, Discover, American Express, PayPal and check payment.
Kaiyote Tours is authorized by the National Park Service, Department of Interior, to conduct services in Rocky Mountain national Park.
More photos can be found here: Photo Gallery (opens new page)