Ushuaia Argentina Birding Tierra del Fuego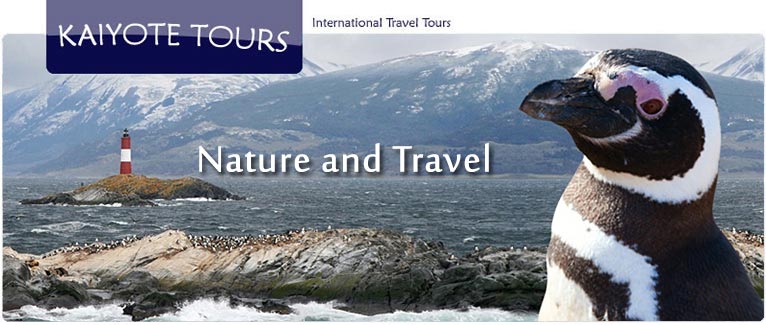 If you are interested in the Southern Argentina birding Tour Tierra del Fuego, come and join us at Kaiyote Tours!
To the Ends of the Earth, Tierra del Fuego
Our trips to Argentina are mellow and relaxing. We don't cover a lot of ground, but the places we visit are very dense with wildlife and beauty. This trip focuses on birds and marine life. Argentina is a wonderful country to visit. Covering nearly 2,200 miles from north to south, Argentina can offer a lot to a traveler. This trip starts with two nights in Buenos Aires before we heading south to the Peninsula Valdés and Ushuaia at Tierra del Fuego.
Highlights: 1) Penguin watching of the coast of Ushuaia. 2) Seeing the stars of the southern hemisphere 3) Watching birds and sailing the Beagle Channel. 4) Attending a tango show in Buenos Aires.
Printable Bird List
(This is a checklist of the birds that we have seen on this trip)
Travel Dates: Tours by special request. This trip makes a great add-on to the Northern Argentina trip and can be shortened to 5-days
Group Size: 2 person minimum
Trip Length: 5 - 10 days
Rates: Please contact us for pricing
Rates include: Domestic transfers, lodging, breakfast, lunch, dinner, scheduled group tours, park entrance fees and basic travel insurance.
Not included: International airfare, customs & immigration fees and visas, alcohol, trip cancellation insurance.
Adventure level: Moderate, please check the "Welcome" page for definition
Map of the travel route here: Argentina Map (this map will enlarge when clicked on, opens a new page)
Special offer: Included with your trip (one per room) is a copy of the field guide "Birds of Argentina and Uruguay" by Tito Narosky and Dario Yzurieta. You will receive this when you reserve your trip so you will have time to study and know the beautiful birds of Argentina and Uruguay.
Basic Itinerary

Day 1: Arrival in Buenos Aires
Most flights from the United States are over-nights flights and you should schedule your flight for arrival on "Day 1". We will meet you at the Buenos Aires Ezeiza International Airport (EZE) with a shuttle to the hotel in downtown Buenos Aires. Activities for the day will depend on the time of your arrival.
Day 2: Buenos Aires
We will be staying close to the Reserva Ecológica Costanera Sur, which is a large nature reserve for birding and walking along the waterfront. Over 300 different species of birds have been seen on the park. We will spend the day birding the park where we usually see about 70 different species of birds.
Day 3: Colonia del Sacramento, Uruguay
Buenos Aires is located along a large fresh water bay that feeds into the Atlantic Ocean. The waterway is called the Rio de La Plata and just across the water is Uruguay. It is a 1-hour ferry ride to the city of Colonia de Sacramento in Uruguay. We will take the early morning ferry and spend the day in Colonia for birding and visiting the historic village of Colonia and return back to Buenos Aires in the evening. This is a good location to view: Brazilian Teal/Duck, Picui Ground Dove, Spot-winged Pigeon, Plumbeous Rail, Giant Wood-Rail, Spot-flanked Gallinule, Whistling Heron, Green-barred Woodpecker, Bran-colored Flycatcher, Chalked-browed Mockingbird, Hooded Siskin, Diademed Tanager and Great Pampa-Finch, just to name a few.
Day 4 : Ushuaia
It is a 4-hour flight to the end of continent and to a small town named Ushuaia, which is located at the edge of Tierra del Fuego National Park. We will have 4-days to bird and hike in Tierra del Fuego National Park and the surrounding areas. Our lodging will be located in town. Ushuaia is located at the tip of South American and is only 500 miles from the tip of the Antarctic Peninsula. Population is about 57,000.
Day 5: Ushuaia
On our first full day here, we will be taking a sailing trip in the Beagle channel to view birds and sea-life and see some penguins. The snow-capped mountains that surround the area are especially beautiful. The other part of the day, we will be birding the harbor area and edges of town.
Day 6: Tierra del Fuego National Park
We will have two full days of birding the national park. Tierra del Fuego cover 153,00 acres (240 sq. miles) and was established in 1960. Because of the very southern latitude of 54 degrees, the park has unique flora and fauna. A few of the birds to been seen: Kelp Goose, Torrent Tuck, Austral Parakeet, Andean Condor, Blackish Oystercatcher and Austral Pygmy-Owl, just to name a few. Please see the bird list for the birds we saw on our last trip.
Day 7: Tierra del Fuego National Park
A second day of birding and touring Tierra del Fuego National Park. "The Train of the End of the World" steam railway in Tierra del Fuego, was originally built to serve the prison in Ushuaia. It now operates as transport into Tierra del Fuego National Park. It is considered the southernmost functioning railway in the world.
Day 8: Ushuaia
Besides birding and hiking, there is a lot to do in Ushuaia. Ushuaia is mainly a tourist town and so there is great shopping here and interesting sights to see. There is an historic prison and maritime museum that are very interesting. There is always great birding and walking along the Ushuaia harbor as well. A 2-hour drive outside of town, along the scenic Beagle Channel, is the Acatushún Museum, which is a natural history museum for birds and marine mammals and this area is also good for birding.
Day 9: Buenos Aires
Flights back to Buenos Aires take about 4 hours and we will be staying in the city close to the Reserva Ecológica Costanera Sur, which is a large nature reserve for birding and walking along the waterfront. In the evening we will have dinner and see a tango show.
Day 10: Arrive home
Shuttle to the airport for your trip home. Depending on when your flight departs, there will be free time for your last day in Buenos Aires.