Iceland Northern Lights Winter Birding Tour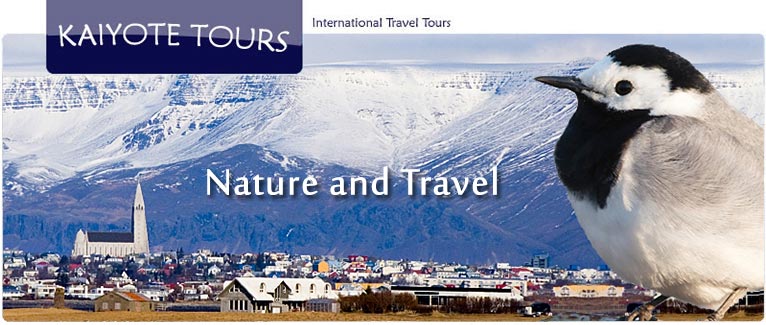 If you are interested in Iceland Northern Lights Winter Birding Tour, come and join us at Kaiyote Tours!
The Northern Lights, Hot Springs and Winter Birding
Our Iceland winter tour has the same itinerary as the New Year's tour, but because these tours are by on-demand, we can customize the itinerary and activities for you.  Winter is a great time to see the northern lights and the winter birds of Iceland.  There are great shows to see at the amazing Harpa Performing Arts building and plenty of other indoor activities, as well as outdoor hiking and sight-seeing.  The best months to go are November - March. 
Printable Bird List
(This is a checklist of the birds that we have seen on this trip)
Travel Dates:  Tours by request
Group Size:  4 - 8 travelers, plus guides
Trip Length: 7 days
Rates: Rate per person = $3,750 (based on double occupancy)
Rates include: Domestic transfers, lodging, breakfast, lunch, dinner, scheduled group tours, park entrance fees and basic travel insurance.
Not included: International airfare, customs & immigration fees and visas, alcohol, trip cancellation insurance.
Adventure level:  Easy, please check "Welcome" page for definition
For recent photos click here:
Newsletter
(opens new page)
Weather in December is a combination of sunshine changing back and forth to clouds and snow, in the winter that is pretty much how it goes in Iceland. The island gets a lot of snow and December is a snowy month.   The average high temperatures are in the mid 30'and the average lows are in the upper 20's.  On winter solstice, the sun rises at about 11:00am and sets at 4:00pm.  There is about 6 hours of light, some of which is a beautiful twilight during midday.  Reykjavik harbor is a good to place to look for winter birds.  There is also a small lake at the edge of the downtown area where birds congregate. 
Basic Itinerary
Day 1:  Arrive in Reykjavik 
Flights are usually overnight with early morning at the Keflavik International Airport (KEF).  It is a 45-minute shuttle ride to Reykjavik from the airport. We will be staying at one of our favorite B&B in town. A city walking tour is available to visit the Hallgrímskirkja which offers a panoramic view of the city from atop the church tower.  After dinner we will be visiting the Harpa Performing Arts Center for a 1-hour comedy show where you will learn everything you need to know for the upcoming week.
Day 2:  Reykjavik 
Reykjavik is the capital of Iceland and is rich in maritime history and close to numerous geological wonders.  We will visit three museums today:  Saga Museum and Aurora Borealis Center where you will learn about Icelandic history and the northern lights and also the Maritime Museum where you will tour a coast guard ship.  If instead, all you want to do is bird all day and skip the museums, we can arrange that for you. 
Day 3:  Hveragerði
In the afternoon it is a 1-hour drive to the geothermal village of Hveragerði, here the land steams and boils.  We will be staying in this small village for two nights.  This is an excellent location to see the northern lights. 
Day 4:  Hveragerði
Today will be a full day of Icelandic adventures. Hveragerði is located at the base of an area call Reykjadalur, also known as the "Hot River".  This is an area where the cold glacial melt meets the boiling hot water flowing from the ground.  It is possible to swim in the river if you choose. Afterwards, a visit to the local geo-thermal pool for a swim and a soak.  In the evening, a walk to look for the northern lights. 
Day 5:  Keflavík
In the morning you will have several options; birding, horseback riding or a morning hike. In the afternoon, we will be travelling to Keflavík with a stop at the Hengill geo-thermal power plant to witness geo-thermal energy at work. 
Day 6:  Keflavík
In the morning we will be visiting the wonderful and amazing thermal pool and spa called the Blue Lagoon. In the afternoon a walking tour to visit the Keflavik harbor, Viking World, and looking for birds.  In the evening, a walk to see the northern lights. 
Day 7:  Fly Home
Flights usually leave in the late afternoon and due to the time change, you will arrive at your home airport "just a few hours later".  There will be time in the morning for birding.