Birding Big Sky Montana Guided Tours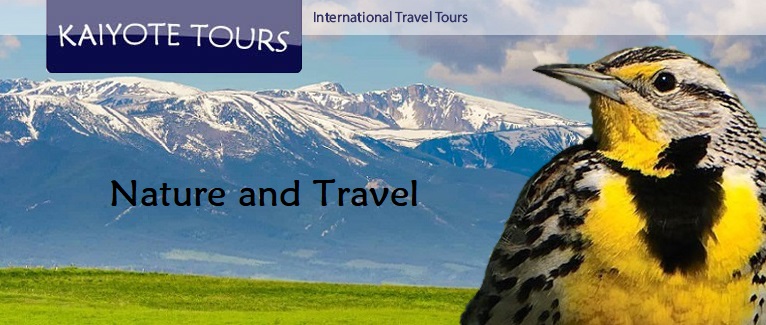 If you are interested in Montana Birding and Wildlife Viewing Tours, come and join us at Kaiyote Tours!
We organize birding and nature tours throughout most of Montana including Butte, Bozeman, and Helena.
Call us at 970-556-6103 or email us at KaiyoteTours@gmail.com to book your trip!
Single Day Trips: If you only need to book a tour by the day and will supply your own lodging, 1 - 3 people = $330, please contact us for 4 or more people. Price includes lunch, snacks, and water to refill your water bottle.
The Lewis & Clark Birding Trail
Southwestern Montana Multi-day Tour
This tour starts in Bozeman and slowly travels a 550-mile loop through southwestern Montana over the course of 8-days. From Bozeman, we will travel through areas near Ennis, Whitehall, Dillon, Bannock, Butte, Deer Lodge, and Helena. The tour visit numerous locations visited by Lewis and Clark on their journey.
Click here for a detailed Itinerary for the 8-day Montana Birding Tour
Let us know what dates work for you
Click here for a list of BIRDS we have seen in Montana
Price: 8-day "car-camping" tour at state parks and local campgrounds is $2,275 per person (minimum 2-people). 8-day birding tour at hotels is $3,480 per person (based on double occupancy). Please contact us for solo traveler rate.
Car Camping Tours include: Campsite fees, meals, camping gear, and entrance fees into state parks and national wildlife refuges.
Hotel Tours include: Lodging, meals, and entrance into state parks and national wildlife refuges.
Not included: National park entrance fees (if you already have a national park pass, please bring it along).
Lodging: We recommend "car-camping" tours because we will see more birds and wildlife while staying at the campgrounds. We have wonderfully comfortable tents and sleeping pads. If you choose to join a tour that provides hotels, the stops and locations are approximately the same. The hotel lodging is "medium class" hotel, such as Best Westerns.
Gear you need to bring: Outdoor clothes including hiking boots, rain jacket and pants and warm clothes, including hats and gloves. The mountains can be cold even in the summer. Everyone should have their own head lamp and/or flashlight, refillable water bottle, day pack for hiking and a personal small emergency kit.
Meals for car-camping tour: We travel with a mini-Weber Charcoal Grill, and we can grill steaks, hamburgers, chicken, or fish. Sometimes we have hotdogs and s'mores on the fire. We also travel with a Dutch Oven and cook shrimp stir-fry, pasta dishes and other delicious meals. We can accommodate vegetarians and vegans, no problem! Breakfast will be cooked on the grill or on the fire at camp. Lunch will be picnic style, sandwiches, fruit, etc. Dinner will be cooked on the grill or on the fire at camp.
Electricity: There will be electricity at some of the campsites. We travel with a lithium generator, and you will have access to power for recharging your equipment.
Campfires: Most all locations permit campfires (when there is not a fire ban).
Showers: There are pay showers at most of the local and state park campgrounds.
Custom Tours: We also offer custom tours. You can choose lodging at either campgrounds or hotels. Please let us know if you have specific birds and/or wildlife that you would like to see and how many days you would like to tour Montana. Please request an itinerary and we will send you the day-to-day details of the tour.
Details for Custom Multi-day Tours
Travel Dates: By request or join an already scheduled trip
Group size: 2 - 8, plus guides
Trip Length: Minimum of 3 days (2 nights) and custom as you choose.
Price: Car-camping tours at state and national park campgrounds are $325 per person, per day. Tours at hotels/cabins are $435 per person, per day, based on double occupancy. Please contact us for solo traveler hotel rate.
Not included: Entrance into national parks (if you already have a pass, bring it along).
Hotel Tours include: Lodging, meals, and entrance into state parks and national wildlife refuges, dinner not included, please contact us for details.

Car Camping Tours include: Campsite fees, food, camping gear, and entrance into state parks and national wildlife refuges.
Gear List
If you need gear, we can supply it at no extra charge. Just let us know in advance.
Suggested to bring:
1) Backpack for your gear
2) Rain gear or rain poncho or umbrella
3) Refillable water bottle
4) Sunscreen and bug spray
5) Hats for both sun and warmth
6) Binoculars
7) Wear Layered comfortable clothes.
Payment and Cancellation Policy
Single-day tours: Full payment is due 72 hours prior to tour. There are no refunds within 72 hours of tour.
Multi-Day tours: A non-refundable payment of $600 per person is requirement to reserve a spot on a trip. Full payment is due 90 days prior to departure date. If you are reserving a spot within 90 days of start date, full payment is required to reserve a spot.
We accept Visa, MasterCard, Discover, American Express, and PayPal.
Lewis and Clark Corps of Discovery: During the pandemic I spent a lot of time in Montana, specifically near Butte, and I often traveled and went birding in the areas of Three Forks and the Jefferson River valley. During these travels I found myself traveling along the same routes of Lewis and Clark. Three Forks is the confluence of the Jefferson, Gallatin, and Madison Rivers, which creates the Missouri River. When Lewis and Clark arrived at the three forks on July 25, 1805, they didn't know which way to go, and they didn't know that they had reached the end of the Missouri River.
Three Forks is also the area where Sacagawea had been kidnapped from the Shoshone camp by the Hidatsa tribe about 7 years prior to the Corps of Discovery Expedition at about age 9 years. Once the expedition arrived at The Forks, they divided the crew and proceeded to explore all three rivers trying to find the best route. Sacagawea recognized the three forks and followed the Jefferson River up the valley and the expedition was able to find the Shoshone tribe and Sacagawea was reunited with her family. This was a significant event for the survival and completion of the expedition.
Lewis and Clark named the three rivers after men they felt were important to the expedition: The Madison River was named after James Madison, who at the time was the U.S. Secretary of State and who would later succeed Jefferson and become the 4th president of the United States. The Gallatin River was named after Albert Gallatin who was the U.S. Treasury Secretary from 1801–14. And the Jefferson River was named for Thomas Jefferson, whose original idea created the Corp of Discovery. This confluence is now a state park, which a great birding area.
Thomas Jefferson believed controlled of the Mississippi River was essential to the economy and sovereignty of the United States and that the settlement of the west by Americans could not be stopped. Napoleon also understood that to try and stop the American's movement west into French territory would only lead to war and although Jefferson requested to purchase only part of the French territory, Napoleon included the whole territory of French controlled land in the purchase. In July of 1803, the Louisiana Purchase became official and nearly doubled the size of the United States. The land acquired was the western drainage of the Mississippi River, and lands east of the continental divide with the exception of what is now Texas and New Mexico. Much of the land had been unexplored and it was believed that from the east coast to the west coast was one big forest of trees. Jefferson also believed a water route connected the east to the Pacific Ocean. From August 31, 1803 to September 25, 1806, the Lewis and Clark Expedition, also known as the Corps of Discovery Expedition, travelled from St. Louis, Missouri to the Pacific Coast, to what is now known as Astoria, Oregon, and back to St. Louis. No water route was found: They found the Rocky Mountains instead.
When the expedition decided to cross the Bitterroot Mountains (Idaho) on foot to find the Columbia River in the fall of 1805, they started from a location that is now known as Traveler's Rest State Park. Sacagawea, who at the time was approximately 17 years old, left her family and continued with the expedition carrying her 6-month old son the entire time. Crossing on land from the Jefferson River to the Clearwater River took nearly 2-months and the group traveled 350 miles on horse and foot, averaging 5 – 6 miles a day. They had expected a quick mountain pass of up and over one range but what they found was a series of lengthy mountain ranges and mountains higher than they had ever imagined existed.
The worse of it was when they actually had to cross the continental divide within the Bitterroot Mountains. On the return trip heading east, Meriwether Lewis wrote about it: "140 miles of high Steep ruged Mountain, 60 miles of which is Covered from 2 to 8 feet deep with Snow in the last of June. William Clark wrote: "I have been wet and as cold in every part as I ever was in my life. Indeed I was at one time fearfull my feet would freeze in the thin mockersons which I wore."
Once they reached the Clearwater River, it was a quick journey in canoes to the Snake River and then onto the Columbia River. And on November 7, 1805 Captain William Clark declared: "Ocean in view! O! The joy!", but he had only seen the massive Columbia River estuary and it would be another week until they saw the actual Pacific Ocean.
What if they had not survived the crossing? Lost in mountains in some unknown location? How would history have changed? Their fate would have been lost to history, we would have never known, and people might still be looking for the "lost expedition" today. It is amazing everyone survived, not only to see the Pacific Ocean, but to complete the return journey back to St. Louis. On the entire journey only one person died and that was Charles Floyd, who died 3-months into the expedition at age 22, and he mostly likely died from a ruptured appendix.
By the time I read the book, "Undaunted Courage" by Stephen E. Ambrose, I was fairly familiar with the story of Meriwether Lewis. I had read some of Lewis' journals, biographies, and I knew that he committed suicide at age 35, 3-years after the completion of the Corps of Discovery. But nothing prepared me for reading the history and story in chronological order as in Stephen Ambrose's book. The story of his life after the expedition, which led to his suicide is so tragic and heartbreaking, I cried and was depressed about it for days. Why had he been left alone? Where was Clark? Where was Jefferson? It was such a tragic end for someone so great, I was angry, but mental illness was misunderstood and ignored, as it is often still today.
I also recommend viewing Ken Burns documentary, "Lewis & Clark, The Journey of the Corps of Discovery" and although I was disappointed with it, mainly due to the fact it was too short. It is worth viewing because there are great interviews with Stephen Ambrose and other historians included in the DVD special features. (I had just finished watching Ken Burns' "Civil War" series, twice… and was expecting a longer series.)
William Clark and Meriwether Lewis were great friends and dedicated co-captains of the expedition. They met in 1794 during the "Whiskey Rebellion", when Clark was one of Lewis' commanding officers. When Thomas Jefferson asked Meriwether Lewis to pick a 2nd in command, Lewis did not hesitate to name William Clark, but he insisted that they shall be "co-captains", which was unheard of in the U.S military. They worked well together, like opposites that filled-in for each other's weakness, enabling them to stand strong together. Through most of the westward journey, Meriwether Lewis walked whenever he could. Traveling up stream, the going was slow, and Lewis preferred to be on the land and walked. William Clark preferred to travel with the boats.
I have several tours that encompass two major parts of the Lewis and Clark expedition. You can visit these areas by either "car-camping" along the way or staying at hotels. Click on the state name to view the webpages and find the itineraries.
1) Montana: Bozeman, Three Forks, and the Jefferson River.
2) Washington: The Columbia River and the Snake River.