Rocky Mountain National Park Birding Wildlife Tours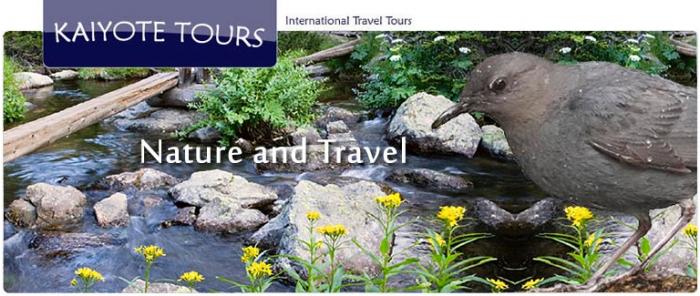 If you are interested in Rocky Mountain National Park Birding and Nature Tours, join us at Kaiyote Tours!
Over 300 different species of birds have been identified in Rocky Mountain National Park. The park covers 267 acres, 416 square miles and has 359 miles of hiking trails.
Rocky Mountain National Park is a high elevation area. The lowest point in the park is about 8,100 feet and most trailheads are located from 9,500 - 10,500 and some sites are located over 11,000 feet. For this reason, we only offer Private Trips, so your entire group will be similarly acclimated to the altitude. We recommend that you arrive a few days early and stay in Estes Park (7,800 feet) or Grand Lake (8,300 feet) to help you acclimate. Altitude sickness and fatigue will ruin your trip, so please Plan Ahead and Prepare (Leave No Trace principle #1).
Birding and Wildlife Tours: Single day or multi day tours. If you will be in the national park area for an extended period of time, we highly recommend spending time in all five life zones in the area. Starting in Rocky Mountain National Park, you will find different species of birds in the three major zones in the park: Alpine, Sub-alpine and Montane. At the edge of the park, you will find the foothills, plains and high mountain parks. We can arrange an extended birding tours of the different areas for you.
Alpine Tours: Trail Ridge Road crosses Rocky Mountain National Park and the continental divide. The high point on the road reaches 12, 200 feet. The Alpine Visitor Center is along Trail Ridge Road at 11,800 feet. We will take you on several short nature walks and teach you about the plants, animals and geology of the Alpine Tundra.
Pricing for full day private tours: 1 - 3 people = $330, please contact us for 4 or more people.
Included: Snacks, and water to refill your water bottle. Please bring your own lunch and water bottle.
Not included: Rocky Mountain National Park entrance fee. If you already have a pass, please bring it along. Lunch and water bottles are not included.
Stargazing, Night Sounds and Sunset: We don't have a telescope, but we love to go into the National Park at night and look for shooting stars, falling meteorites, the Milky-way and orbiting satellites. We will teach you about the constellations of the sky. The mountain sky is truly clear and on a moonless night, you will be amazed about the number of stars in the sky. When the moon is out, it is so bright you can read a book! Nighttime is also a great time for night sounds. Dress warm, the dunes and mountains can be cold at night. Bring a blanket (if you want to lay down to view the stars), bring a flashlight (one with a red-light option is best), and binoculars. You can see a lot with binoculars, including the Andromeda Galaxy. Stargazing lasts about 3-hours, Price is $65 per person.
Call us at 970-556-6103 or email us at KaiyoteTours@gmail.com to book your trip!
If you need gear, we can supply it at no extra charge. Just let us know in advance.
Suggested to bring:
1) Backpack for your gear
2) Rain gear or rain poncho or umbrella
3) Refillable water bottle
4) Sunscreen and bug spray
5) Hats for both sun and warmth
6) Binoculars
7) Wear Layered comfortable clothes.
Payment and Cancellation Policy
Full payment is due 72 hours prior to tour. There are no refunds within 72 hours of tour. We accept Visa, MasterCard, Discover, American Express and PayPal.
Kaiyote Tours is authorized by the National Park Service, Department of Interior, to conduct services in Rocky Mountain National Park.