Longs Peak Rocky Mountain National Park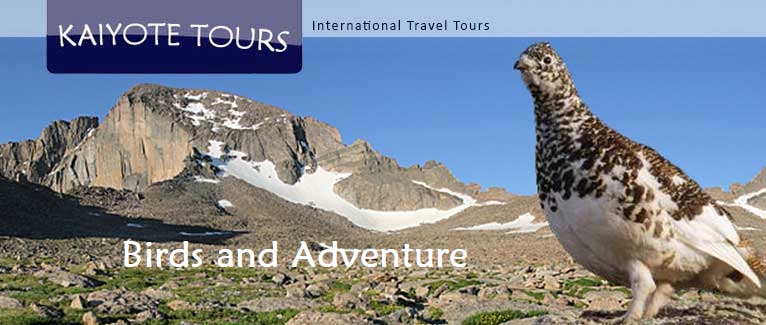 We are no longer guiding trips to the summit of Longs Peak. After 22 year of hiking and guiding trips to the summit, we are retired.
Our hiking tours go only as far as the Boulderfield (5.5 miles each way) at an elevation of 12,760 feet. During snowshoe season, our tours go as far as Chasm Junction (3.8 miles each way) at an elevation of 11,580 feet.
Check the Rocky Mountain National Park Hiking Page and Snowshoeing Page for pricing.
We are happy to answer any questions you might have about Longs Peak. It is an amazing mountain and something to experience. It truly is amazing to hike anytime of the year, on any part of the trail, the trail is great for snowshoeing too.
The first documented ascent of Longs Peak was by Major John Wesley Powell in 1868. This is also the same man who was first to boat through the Grand Canyon. Longs Peak is named after Major Stephen Long who led an expedition to survey the Front Range Rocky Mountains in 1820.
Summer is short at 14,000 feet. The best time to hike Longs Peak is from mid July through August. During most of the year, getting to the top of Longs Peak is considered a technical climb because of snow and ice conditions on the mountain.
The Keyhole route to the summit has five major sections: The trailhead to the Keyhole, the Ledges, the Trough, the Narrows and the Homestretch.
The Keyhole, 13,160 feet: It is a beautiful hike just getting to the Keyhole. The view from the Keyhole is spectacular. For those that feel Longs Peak is too much for them, we highly recommend a hike to the Keyhole. It is 6.3 miles each way.
The Ledges: From the Keyhole, it is .4 miles to the base of the Trough. The ledges are narrow and require climbing over rocks, with exposure to falls.
The Trough: The trough is a short (.3 mile) and steep 2,000 foot climb to the start of the Narrows. The trough has a lot of loose rock and can be very slippery in bad weather. This area holds snow late in the year.
The Narrows, 13,865 feet: From the start of the Narrows to the base of the Homestretch, there is a 3 foot wide ledge that traverses along the south side of the mountain for .3 miles.
The Homestretch: Is a very short .1 mile scramble to the top. A lot of the rock is smooth and becomes very slippery when wet.