Chicago Lyric Opera and Birding Tour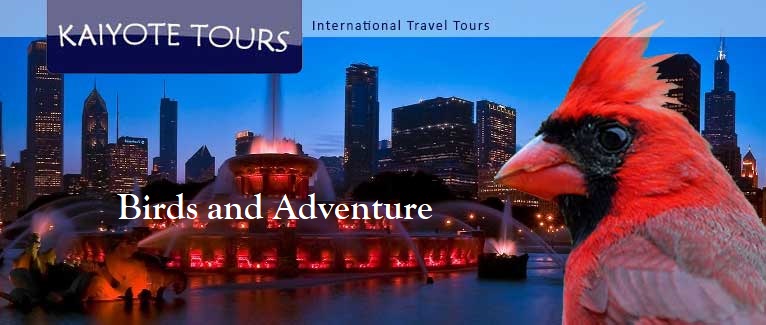 If you are interested in the Chicago Lyric Opera and Birding Tour, come and join us at Kaiyote Tours!
The Lyric Opera of Chicago performs Richard Wagner's Ring Cycle in April 2020 and Kaiyote Tours is offering an Opera and Birding tour for the event. During the day we will be visiting Chicago's best birding locations and there will be four evenings of operas, as well as two evening events to see "The Second City" comedy performances.
"Join us for an extraordinary story told over the journey of four operas. Together, they comprise Wagner's magnificent Ring cycle, one of the greatest musical achievements in Western culture and an immersive operatic adventure that every opera lover should experience. Lyric is proud to present a brand-new Ring in April 2020 — a rare and monumental undertaking that will attract audiences from all over the world to the city of Chicago." Lyric Opera of Chicago
What is the "Ring Cycle" opera? It is short for "Der Ring des Nibelungen" (The Ring of the Nibelung), written by Richard Wagner who was a German composer who lived from 1813 - 1883. The Ring of the Nibelung opera was first performed in 1876 after it took Wagner 26-years, from 1848 – 1874, to complete his masterpiece of 15-hours of opera. Wagner wrote both the music and the lyrics and his vision was that the opera was one very long song, which is his interpretation of the Nordic Sagas compressed into one opera. It is truly an amazing and complicated work, but no singer, musician or audience, can perform or sit for 15-hours and so the opera is performed as 4 separate operas, usually over a week. Although the story encompasses the entire life and length of the universe and all things considered, at the core of the story is the fight and battle to possess a "magic ring", which will allow its owner control of the world. Sound familiar?
Besides attending all four operas with Kaiyote Tours, we will also be attending nightly talks and events which will help explain content and history of the Ring Cycle operas. One event called Longer! Louder! Wagner! is performed with help of The Second City comedy team. Just about every stereotype about opera comes from Wagner's Ring operas, it is how people make fun of opera or think they won't like opera. And even Wagner created a few stereotypes; one being the belief that Vikings wore horns on their helmets, when if fact there is no evidence that Vikings had helmets with horns, this was Wagner's idea.
Birding: There will be lots of time for urban birding. Over 300 species of birds have been identified in Chicago and because Chicago is located on Lake Michigan, it is an important fly-way for nearly 200 bird species.
Lodging will be at the historic Congress Plaza Hotel, perfectly situated with great views of Lake Michigan and a short walk to the best parks.
Travel Dates: April 12 - 19, 2020 and April 18 – 25, 2021*
Group Size: 6 Travelers plus guides
Trip Length: 8 days
Rates: Rate per person = $5,350 (based on double occupancy)
Rates include: Transport within Chicago, lodging, breakfast, lunch, dinner, opera tickets and group tours
Not included: Airfare to Chicago
Adventure level: Easy, please check the "Welcome" page for definition
*2021 dates are not for the Ring Cycle, but will include nights at the Lyric Opera, Chicago Symphony and comedy clubs. The rates for 2021 are $3,250 per person based on double occupancy.
Special offer: Included with your trip (one per room) is a copy of the field guide "Sibley Birds West: Field Guide to Birds of Eastern North America" by David Allen Sibley. You will receive this when you reserve your trip so you will have time to study and know the beautiful birds!
Reservations: To reserve a spot on the trip, it is a non-refundable 50% deposit = $2,675 per person.
April is a beautiful time to visit Chicago!
2020 Itinerary
Day 1 Sunday April 12: Fly to Chicago
Arrival day: No scheduled activities
Dinner: TBA
Day 2 Monday April 13
6:00am – 8:00am: Morning bird walk
8:00am – 9:00am: Breakfast
9:00am – 12:00pm: Birding Jackson Park
12:00pm – 1:00pm: Picnic lunch
1:00pm – 4:00pm: Birding Washington Park
4:00pm – 5:00pm: Afternoon break
5:00pm: Dinner
6:30pm: Pre-opera talk
7:30pm: Das Rheingold
Day 3 Tuesday April 14
6:00am – 8:00am: Morning bird walk
8:00am – 9:00am: Breakfast
9:00am – 12:00pm: Montrose Park Bird Sanctuary
12:00pm – 1:00pm: Picnic lunch
1:00pm – 2:30pm: Afternoon break
2:30pm – 4:00pm: The Philosophy of the Ring Talk
4:00pm: Afternoon meal
5:00pm: Pre-opera talk
6:00pm: Die Walküre
Day 4 Wednesday April 15
6:00am – 8:00am: Morning bird walk
8:00am – 9:00am: Breakfast
9:00am – 12:00pm: Notebaert Nature Museum and Sanctuary
12:00pm – 1:00pm: Picnic lunch
1:00pm – 4:00pm: Birding Lincoln Park
4:00pm – 5:30pm: Afternoon break
5:30pm: Dinner
7:00pm: Longer! Louder! Wagner! with The Second City comedy team
Day 5 Thursday April 16
6:00am – 8:00am: Morning bird walk
8:00am – 9:00am: Breakfast
9:00am – 12:00pm: Birding Douglas Park Lagoon
12:00pm – 1:00pm: Picnic lunch
1:00pm – 3:30pm: Birding Garfield Park Lagoon
3:30pm – 5:00pm: Afternoon break and meal
5:00pm: Pre-opera talk
6:00pm: Siegfried
Day 6 Friday April 17
6:00am – 8:00am: Morning bird walk
8:00am – 9:00am: Breakfast
9:00am – 12:00pm: Birding North Park Village Nature Center
12:00pm – 1:00pm: Picnic lunch
1:00pm – 4:00pm: Birding LaBagh Woods
4:00pm – 5:30pm: The Second City Comedy Club
5:30pm – 7:00pm: Dinner
Day 7 Saturday April 18
6:00am – 8:00am: Morning bird walk
8:00am – 9:00am: Breakfast
9:00am – 12:00pm: Birding Humboldt Park
12:00pm – 1:00pm: Picnic lunch
1:00pm – 3:00pm: Birding Northerly Island
3:00pm – 4:30pm: Afternoon meal and break
4:30pm: Pre-opera talk
5:30pm: Götterdämmerung
Day 8 Sunday April 19
Departure day: You will be transferred from your hotel to your departure airport