Birding in Nicaragua Volcanoes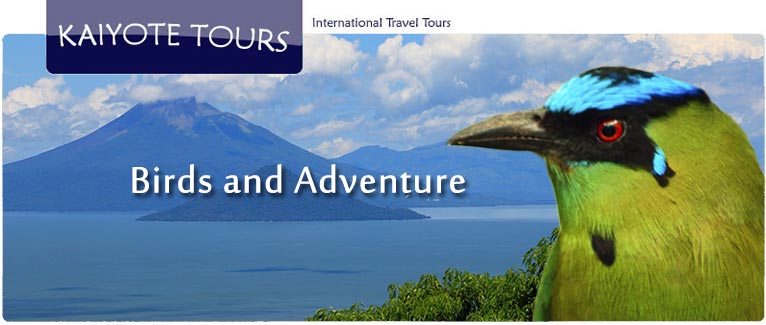 Nicaragua has more volcanoes than any other country in Central America and many of them are active geological sites. At the base of the volcanoes that we will be visiting you will find lush, tropical forests full of birds and wildlife. On this tour we will also be visiting the historic city of Granada and the artesian city of Masaya, both which are steeped in tradition. This is a great tour to experience both the natural and cultural worlds of Nicaragua.
Highlights:
Listening to the sounds of Turquoise-browed Motmots as you float in the crystal clear waters of Laguna Apoyo.
Sitting on a park bench in the central square of Granada eating ice cream and watching the world go by.
Walking the shores of Ometepe
Printable Bird List
(This is a checklist of the birds that we have seen in Nicaragua)
Travel Dates: Mid February, every year, this is an annual trip! Please contact us for specific dates for the February tour.
Group Size: 6 Travelers plus guides
Trip Length: 10 Days
Rates: Rate per Person = $3,150 (based on double occupancy) Rate for single = $4,350
Rates are: Inclusive: Domestic transfers within Nicaragua, lodging, meals, scheduled group tours, entrance fees & Allianz deluxe travel health insurance.
Exclusive: International airfare, immigration fee, alcohol, personal expenses such as souvenirs, expenses relating to personal choices during free time and tips for guides.
Detailed Itinerary

Day 1: Managua
Arrival in Managua; flights usually arrive in the evening, so we will head directly to the Las Mercedes Hotel for a relaxing evening among the pools and gardens.
Day 2: Managua
There are two great birding areas just outside of Managua that we will visit today: Chocoyero - El Brujo Natural Reserve and Montibelli Natural Reserve. These reserves offer great birding and walking and both centers have wonderful porches to sit and wait for the birds to come to you, if you choose.
Day 3: Laguna Apoyo
Laguna Apoyo is a volcano crater that has filled up with water and now is a crystal clear lake. Nicaragua's state bird, the Turquoise-browed Motmot is abundant here. We will be staying at the San Simian Eco-lodge.
Day 4: Laguna Apoyo
Atop the Apoyo crater is the small artesian village of Catarina. From Catarina there are spectacular views of Laguna de Apoyo, Granada, the Mombacho volcano and Lake Nicaragua. In many of the restaurants you can relax, buy souvenirs and listen to marimba music. There will be birding tours every day.
Day 5: Laguna Apoyo
There are nice hiking trails here and plenty of activities at the crater. This can be a day to bird, relax, swim or go exploring in the rainforest. In the afternoon we will visit the colonial city of Granada, which was founded in 1524. Dinner will be in Granada.
Day 6: Isla de Ometepe
A private shuttle and a boat will get us to Isla de Ometepe, which is an island created by two volcanoes. One Volcano is active and one is dormant. We will be near the base of Volcano Concepcion, which is constantly billowing steam. We will be staying at the Hotel Charco Verde which is right on the lake and next to the Charco Verde Nature Reserve and a perfect place to see some amazing sunsets and a lot of birds.
Day 7: Isla de Ometepe
Today we will take a walk over to the Charco Verde Nature Preserve. There are great trails here for spotting birds, monkeys and iguanas. There is also a nice beach for a swim. At the restaurant, numerous White-throated Magpie Jays are there to say hello.
Day 8: Isla de Ometepe
There is a lot of exploring to do on Isla Ometepe. There are great trails that lead to secluded beaches for swimming and relaxing. There is a great restaurant here for food, drinks and socializing. We will be taking an island tour to view the wildlife and birds around the base of the volcanoes.
Day 9: Managua
On this day we travel back to Las Mercedes and on the way back we will stop in the city of Masaya for shopping at the artesian craft market. In Managua, across from the hotel at the airport is excellent shopping as well.
Day 10: Fly Home
Flights usually leave in the morning, so getting to the airport and getting home is our only activity for the day.
Please note: The lodging described in this itinerary is always our first choice based on availability. If we must book with our second choice, the lodging type and style is comparable.