Birding in Nicaragua Pacific Tour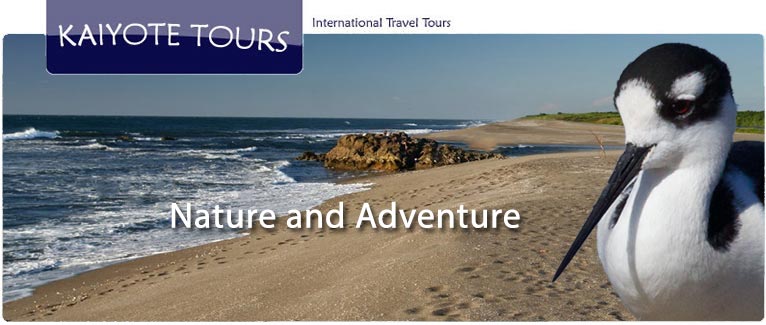 The Pacific area of Nicaragua has everything dramatic: The steaming and sometimes spitting volcanoes of the "Ring of Fire" to the immense Pacific coast with big surf and long stretches of sandy beaches, to the wild deltas and estuaries of the rivers flowing down from the Nicaraguan cloud forest mountains. This trip can be anything you want; from a very relaxing and peaceful nature and birding experience to an outdoor adventure tour. There is a lot to see and do in this part of Nicaragua.
Highlights:
Floating the Estero Real in a small river boat and experiencing the wonderful beauty of the river delta's wildlife and birds.
Watching the tide come and go and return again in the bay of Las Peñitas.
Walking along the Pacific shoreline and watching the sunset.
Printable Bird List
(This is a checklist of the birds that we have seen in Nicaragua)
Travel Dates: March 10 – 19, every year, this is an annual trip!
Group Size: 6 Travelers plus guides
Trip Length: 10 days
Rates Rate per person = $3,150 (based on double occupancy) Rate for single = $4,350
Rates are: Inclusive: One round trip domestic flight, domestic transfers within Nicaragua, lodging, meals, scheduled group tours, entrance fees & Allianz deluxe travel health insurance.
Exclusive: International airfare, immigration fee, alcohol, personal expenses such as souvenirs, expenses relating to personal choices during free time and tips for guides.
Detailed Itinerary

Day 1: Managua
Arrival in Managua; flights usually arrive in the evening, so we will head directly to the Las Mercedes Hotel for a relaxing evening among the pools and gardens.
Day 2: Managua
There are two great birding areas just outside of Managua that we will visit today: Chocoyero - El Brujo Natural Reserve and Montibelli Natural Reserve. These reserves offer great birding and walking and both centers have wonderful porches to sit and wait for the birds to come to you, if you choose.
Day 3: Las Peñitas
A private 2 hour shuttle ride from Managua to the Pacific sea shore and we will come to the beautiful beaches Las Peñitas. We will stay here 3 nights at the Simple Beach Lodge.
Day 4: Las Peñitas
Las Peñitas is situated next to the Reserva Natural Isla Juan Venado, which protects birds, wildlife and nesting sea turtles. We will take a day tour to this reserve and bird the coastal areas and mangroves inlets. The are several surfing schools at Las Peñitas and a great area for swimming and body surfing.
Day 5: Las Peñitas
Las Peñitas is also a small laid back fishing village and popular with the locals. There is good birding in the neighborhoods and nice walking along the beach. The bay in front of Barca de Oro empties and refills everyday with the tide change and with the tide change, come and go all sorts of birds and people. It is fun to sit and watch the world go by here.
Day 6: Jiquilillo
A couple hours further up the Pacific coast we will travel to the small beach area called Jiquilillo. We will be spending 3 nights at the Rancho Esperanza Jiquilillo.
Day 7: Jiquilillo
Jiquilillo has a lovely beach front and plenty of activities: Surfing, horseback riding, kayaking, massage, boat tours, fishing and hiking. Just up the beach from Jiquilillo is the Padre Ramos Reserve, which we will visit for a day tour. This area is great for birds and wildlife.
Day 8: Jiquilillo
Close to Jiquilillo is the nature reserve of the Esteros Real river delta. We will be taking a day tour of the area for birding and wildlife watching. In the afternoon we will visit the Volcano Cosigüina and crater for hiking and birding.
Day 9: Managua
A 2 hour private shuttle ride will get us back to the Las Mercedes Hotel in Managua were we will spend the rest of our day relaxing among the gardens, swimming and looking for birds. On the way back to Managua, we will stop in the historic city of Leon for shopping at artesian craft markets. In Managua, across from the hotel at the airport is excellent shopping as well.
Day 10: Fly Home
Flights usually leave in the morning, so getting to the airport and getting home is our only activity for the day.
Please note: The lodging described in this itinerary is always our first choice based on availability. If we must book with our second choice, the lodging type and style is comparable.