Stockholm Christmas Birding Tours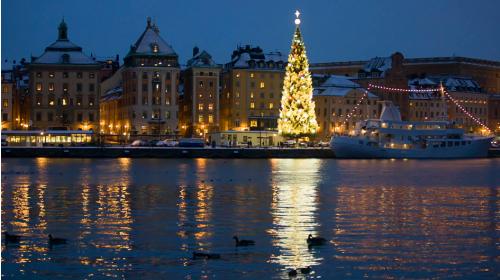 Stockholm
Winter Solstice, Christmas and the Northern Lights
Stockholm is city of islands, which makes it especially convenient for boats, sightseeing, walking and birding year-round. The city is full of great history, art, music, museums and restaurants. There are palaces, cathedrals and many historic buildings to visit. The Stockholm subway is considered the longest art gallery in the world at 68 miles in length.
Stockholm stretches across fourteen islands where Lake Mälaren flows into the Baltic Sea. The original old town, known as Gamla Stan, is in the heart of the city and is a charming, picturesque historic neighborhood. Just outside the city and along the Baltic Sea coast is the island chain known as the Stockholm archipelago, which includes approximately 24,000 islands and islets. The area has been settled since the Stone Age and was founded as a city in 1252.
Stockholm is about the same latitude as Anchorage, Alaska and northern lights are always a possibility in the winter.
Weather on Winter Solstice
Sunrise 8:43 am, Sunset 2:48 pm, 6 hours of sunlight. Expected ranges for high temperatures during the day are mid 30's – 40's and expected ranges for low temperatures are 25 - 35
Lodging
On this tour, all the lodging will be aboard permanently moored boats and yachts in the Stockholm waterway. On all the boats, the rooms are small and "cozy", like most ships, but all the rooms have beds "on the floor", meaning no bunks.
1) The first two nights will be on the M/S Rygerfjord: The Rygerfjord was built in 1950 at Mjellem & Karl's shipyard in Bergen, Norway. In 1961 her Crossley machine was replaced with a Wichmann and enabled the ship to cruise at 12 knots (about 14 mph). During the winter of 1970/71 the boat was renovated, and the stern boat deck was built. She was revalued at 601 GRT and was classified for 100 passengers as opposed to the previous 365. After 45 years of passenger service within Scandinavia, Rygerfjord docked at its present position at Söder Mälarstrand in 1995 and has been slowly converted and upgraded over the years to accommodate over-night lodging.
2) The next two nights will be on Den Röda Båten (The Red Boat): The Red Boat is a wood and steel tugboat boat; built in 1914 it was previously a working boat that served the Göta Canal. There are two sister boats moored next to each other to accommodate travelers.
3) The last three nights, including Christmas Eve and Christmas day will be on the Mälardrottningen: The history of the Mälardrottningen is very interesting and it is always a special treat to stay on the yacht. Here are a few paragraphs copied from the hotel website: "When you enter the gangway of Mälardrottningen, you might be walking in the same footsteps of former movie stars, politicians and royals. The ship was built in 1924 for C.K.G Billings, a millionaire from New York, and the ship at that time was the world's largest diesel driven yacht.
The ship was later bought by the Woolworth-millionaire Frank W. Hutton. Barbara Hutton, the Woolworth heiress received it as a gift from her father on her 18th birthday. Barbara lived an extravagant life among royals and movie stars and in the 1940's she was married to Cary Grant. She later sold the ship to the Royal British Navy for one-pound sterling.
During the Second World War the ship was anchored very shortly in Panama and later on moved to Norway where she was used as a training ship. During the fifties the ship was used as a passenger ferry between Stockholm and Åbo in Finland. Since 1982, Mälardrottningen has been at her current location and only leaves the dock for maintenance every fifth year".
Food
There will be three very special dinners on this tour:
1) The first will be a winter solstice afternoon cruise and traditional Swedish Smörgåsbord aboard the M/S Waxholm III, which is a classic archipelago ship from the maritime golden age; built in 1903.
2) Christmas Eve: Traditional Smörgåsbord and festive evening aboard the Mälardrottningen Yacht. Swedish tradition has the big Christmas party on Christmas Eve.
3) Christmas Day: Traditional Swedish Christmas Smörgåsbord, also know as Julbord, will be at the Grand Hotel. Built in 1874, the Grand Hotel has been a center piece for important events in Sweden and it is truly an opulent, grand old hotel. Similar to the Mälardrottningen, when you step into the lobby of the Grand Hotel, you are walking in the footsteps of royalty, presidents and movies stars. From 1901 – 1929 the Nobel Laureate Banquet was held at the Grand Hotel.
4) All other lunches and dinners will be at a variety of local cafes and restaurants. It is a tradition to have one dinner at Michelangelo's Italian Restaurant.
Travel Dates: December 20 – 27, every year, this is a new annual trip!
Group Size: 8 Travelers plus guides
Trip Length: 8 Days
Rates: per person = $3,240 (based on double occupancy), Rate for single = $4,350
Rates are:
Inclusive: Domestic transfers and transportation within Sweden, lodging, breakfast, lunch, dinner, group tours, entrance fees and Allianz travel health insurance.
Exclusive: International airfare, customs & immigration fees and visas, alcohol, personal expenses such as souvenirs and expenses relating to personal choices during free time, tips for guides.
Itinerary Summary
December 20: Arrival in Stockholm
Flights from the States usually arrive in the late afternoon. You should schedule your flight for arrival at the Stockholm Arlanda International Airport on December 20th. You will be greeted at the airport and transferred to the M/S Rygerfjord Ship Hotel which is moored along the banks of Södermalm Island in Stockholm. We will stay on the Rygerfjord for two nights.
December 21: Södermalm, Stockholm
Winter Solstice: A 3-hour afternoon dinner cruise onboard the M/S Waxholm III, a 120-foot historic archipelago ship built in 1903. Hopefully in the evening, some clear skies and northern lights for a very special winter solstice.
In Stockholm there is a "Living Advent Calendar", which is a new tradition started in 2005 and from December 1st through the 24th at 6:15pm each day a different window of an historic building opens and there is singing, storytelling and festivities for each window for 20 minutes. Each advent window is at a different location in the historic area of Gamla Stan and it makes a great addition to each day to walk through Gamla Stan and find the new window for each day.
December 22: Södermalm, Stockholm
Today we will be moving to a new boat called the Den Röda Båten (The Red Boat), we will stay on Den Röda Båten for two nights. It is located only one block down the waterfront from the Rygerfjord, but it will be another unique lodging experience.
In Stockholm, the list of museums and buildings of historic and architectural significance is long (over 100) and so, depending on induvial interests, this day will be full of sightseeing and getting to know the history and culture of Stockholm. For those that are interested in birding, there will always be time to check out the winter birds of Stockholm. Besides the waterfront, Stockholm has several large parks for winter passerines. Let me know your specific interests and I will find an activity for you!
December 23: Södermalm, Stockholm
Stockholm is the capital of Sweden and is rich in maritime history. Today there will be a visit to the Vasa Museum. The Vasa is a Swedish warship built between 1626 and 1628. The ship sank after sailing about a mile into its maiden voyage in August 1628. After most the valuable bronze cannons were salvaged in the 17th century the ship was largely forgotten until it was located in the late 1950s in a busy shipping lane just outside the Stockholm harbor. In 1961 the ship was brought to the service and with much of it still intact, it was restored and now is open for viewing at the Vasa Museum.
When possible, will be using public transportation on this tour, namely the Stockholm subway, which is considered the longest art gallery in the world at 68 miles in length and definitely worth the admission price!
Stockholm has numerous Christmas markets to visit and plenty of traditional Glögg to drink and Pepparkakors to eat. Glögg is similar to mulled wine and but is stewed with cardamom, cinnamon, ginger, dried Seville orange, and clove. Pepparkakor is traditional Swedish gingerbread cookies, made using special cookie cutter shapes, like hearts and stars, very thin and made with cardamom, cinnamon, cloves and ginger.
December 24: Riddarholmen, Stockholm
This day is Christmas Eve and for the next three night we will be staying on the Mälardrottningen Yacht located on Riddarholmen Island. Located only about a half a mile away from Södermalm, the Mälardrottningen is moored close to Gamla Stan, which is the historic center of Stockholm. There will be numerous options for activities today including Christmas concerts and festivities.
December 25: Riddarholmen, Stockholm
On Christmas day most places are closed, but hopefully it snows and creates a beautiful city landscape. One of the tallest (and sometimes the very tallest) Christmas tree in the world is the Skeppsbron Christmas Tree in Stockholm, measuring 125 feet.
December 26: Riddarholmen, Stockholm
The day after Christmas is a day to be outside and a short distance outside the city there are numerous parks and forests for outdoor winter activities; Birding, snowshoeing, cross-country skiing or ice skating will be an option for the last full day in Stockholm. (There is a downhill ski area nearby, for those you love a ski resort, but this activity is not included in the tour.)
December 27: Fly Home
Flights usually leave in the morning and you will be transferred to the airport for your flight home
Please note: The lodging described in this itinerary is always our first choice based on availability. If we must book with our second choice, the lodging type and style is comparable.