Northeast Iceland Tour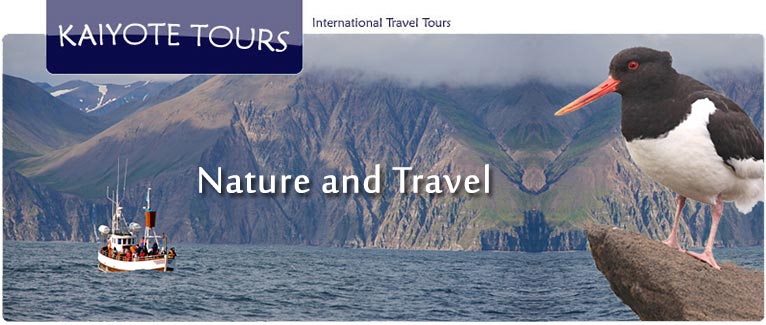 Iceland really is a magical and mystical place. The natural geological wonders, landscapes, birds and ocean life are unforgettable!
On this trip we will spend most of our time along the northeastern coastline walking and looking for birds. There are links to some of the places that we go to within the daily itinerary schedule. The itinerary is just a brief summary.
We start out this 10 day trip in Reykjavik. Reykjavik is a great city for art and culture. We will fly from Reykjavik to Akureyri. The next five days we will be visiting the best birding and nature sites in the Northeast part of Iceland. This area has a stunning ocean shore line, beautiful lakes and mountains, great walking trails and a lot of birds to see. We will spend our last night back in Reykjavik. Iceland is a great place for walking and experiencing amazing landscapes. We will see marine wildlife, birds and horses. Icelandic horses are especially beautiful.
Highlights: 1) Whale and bird watching off the northern coast. 2) Walking the coastline and footpaths in search of birds and adventure. 3) Standing next to incredible lakes and waterfalls.
Printable Bird List
(This is a checklist of birds that we have seen in the month of May)
Travel Dates:
May 22 - 31, every year, this is an annual trip!
Group Size:
6 Travelers plus guides
Trip Length:
10 Days
Rates:
Rate per person = $3,750 (based on double occupancy)
Rate for single = $5,150
Rates are:
Inclusive: Domestic transfers and transportation within Iceland, lodging, breakfast, lunch, dinner, group tours, entrance fees and Allianz deluxe travel health insurance.
Exclusive: International airfare, customs & immigration fees and visas, alcohol, personal expenses such as souvenirs and expenses relating to personal choices during free time, tips for guides.
Detailed Itinerary
Tap here to see a map of the Travel Route (opens in new tab)
Day 1: Fly to Iceland (fly day)
Flights are usually overnight with arrival on day two.
Day 2: Arrive in Reykjavik (arrival day)
Flights usually arrive in the early morning. We will be flying into the international airport at Keflavik. It is a 45 minute bus ride to Reykjavik from the airport. We will be staying at Eric the Red Guesthouse for two nights. Breakfast is a traditional Icelandic offering of fish, cheese, meats, breads, cereals, etc. In Iceland the hot water is all from the thermal heat coming from the ground, so there is always plenty of hot, hot water. In the back yard of this guest house we often see Blackbirds, Redwings and Common Redpolls. Dinner will be at the Apótek Restaurant.
Day 3: Reykjavik
Reykjavik is the capital of Iceland and is rich in maritime history and close to numerous geological wonders. Options for today are hiking along the peninsula, birding and checking out the shops and museums of Reykjavik. In the harbor and along the peninsula birds like Fulmars, Gannets, Shags, Common Eiders and Long Tailed Ducks are a few of the species we will see. A short drive from Reykjavik is the area of Hengill. Great hiking trails and beautiful landscapes here. Possible dining choice: The Fish Market.
Day 4: Húsavík
In the morning, we will be taking a 45 minute flight from the domestic airport in Reykjavik to the city of Akureyri. It is about a one hour drive to a small fishing village called Húsavík. Along the way we will visit the Goðafoss waterfall and a few birding spots. We will be staying at the Port Guesthouse for two nights.
Day 5: Húsavík
Húsavík is a great town for whale watching, birding, hiking and museums, so there will be lots of choices for activities here. If you like birds and boats, we will be taking two boat tours during the day. First, a 1-hour puffin boat tour and then a 3-hour whale watching tour. Both tours will be with the Gentle Giants.
Day 6: Þórshöfn
From Húsavík we will be driving along the northeast coast for walking, viewing birds and experiencing the amazing coast that is only 25 miles from the Arctic Circle. We will be staying near a town called Þórshöfn at the Ytra Lón Farm.
Day 7: Mývatn, Skútustaðir
It is a three hour drive to Lake Mývatn. There will be birds, waterfalls and geological sites to see along the way. We will visit one of Europe's most powerful waterfall called Dettifoss and the Námafjall geothermal area to view steam vents and boiling mud pools. We will arrive at Lake Mývatn late in the day and will be staying in Skútustaðir Guesthouse.
Day 8: Mývatn, Skútustaðir
We will have all day to explore Lake Mývatn. It is a 60 mile loop around the lake and plenty of birds to see and wonderful short hikes. There will be time to visit the Mývatn Nature Baths.
Day 9: Reykjavik
It is a 70 mile drive back to Akureyri and we will be taking a mid morning, 45 minute flight from Akureyri back to Reykjavik. We will be staying at the Reykjavík Marina Hotel for our last night. Dinner will be at The Grill Market.
Day 10: Fly Home
Flights back to the States usually leave in the late afternoon. On our way to the airport, we will stop and visit the wonderful and amazing thermal pool called the Blue Lagoon for a swim and a soak.
Please note: The lodging described in this itinerary is always our first choice based on availability. If we must book with our second choice, the lodging type and style is comparable.