Korea Winter Birding Endemics Tour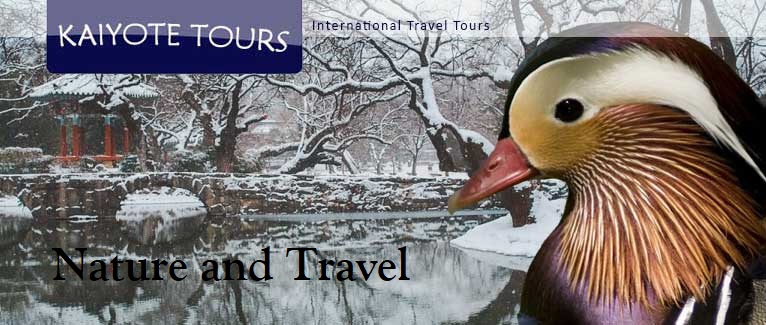 If you are interested in the Korea Winter Birding Endemics Tour, come and join us at Kaiyote Tours!
Korea Winter/Spring Birding Endemics
This trip is designed to focus on Far East Asia Endemics in winter and will cover the most important wintering habitats in South Korea. The tour will be led by an experienced and knowledgeable local expert guide in a 4WD vehicle. There will be about 2 - 4 hours of driving each day in between each lodging location. The tour will start and end in Seoul and there will be time to get to know the Korean culture. This tour is for birders looking to find endemics, rarities and birds for your life list.
Printable Bird List
(Checklist of birds that we have seen on this trip)
Travel Dates: March 3 - 12, 2024
Group Size: 4 Travelers plus guides
Trip Length: 10 days
Rates: Rate per person = $4,750 (based on double occupancy)
Rates include: Domestic transfers, lodging, breakfast, lunch, dinner, scheduled group tours, park entrance fees and basic travel insurance.
Not included: International airfare, customs & immigration fees and visas, alcohol, trip cancellation insurance.
Adventure level: Moderate, please check the "Welcome" page for definition
Special offer: Included with your trip (one per room) is a copy of the field guide "Birds of East Asia: China, Taiwan, Korea, Japan, and Russia" (Princeton Field Guides) by Mark Brazil. You will receive this when you reserve your trip so you will have time to study and know the beautiful birds of Korea.
Map of the travel route here: Korea Map (opens a new page)
More photos can be found here: Photo Gallery (opens new page)
Targets Species
Black-throated Loon, Temminck's Cormorant, Whooper Swan, Tundra Bean Goose, Taiga Bean Goose, Mandarin Duck, Falcated Teal, Baikal Teal, Harlequin Duck, White-winged Scoter, Black Scoter, Smew, Scaly-sided Merganser, Oriental Stork, Eurasian Spoonbill, Temminck's Cormorant, Mew Gull, Glaucous Gull, Vega Gull, Slaty-backed Gull, Black-legged Kittiwake, Ancient Murrelet, White-tailed Eagle, Steller's Sea Eagle, Eastern Marsh Harrier, Japanese Sparrow-hawk, Upland Buzzard, Cinereous Vulture, White-naped Crane, Hooded Crane, Red-crowned Crane, Japanese Pygmy Woodpecker, Bull-headed Shrike, Chinese Great Grey Shrike, Azure-winged Magpie, Daurian Jackdaw, Japanese Waxwing, Great Tit, Varied Tit, Brown-eared Bulbul, Vinous-throated Parrotbill, Japanese White-eye, Siberian Accentor, Japanese Wagtail, Grey-capped Green-finch, Long-tailed Rosefinch, Pallas's Rosefinch, Yellow-billed Grosbeak, Japanese Grosbeak, Meadow Bunting, Yellow-throated Bunting, Grey Bunting, Japanese Reed Bunting
Basic Schedule
Day 1: Arrival in Seoul
Flights are overnight with arrival on day one at the Seoul Incheon International Airport (ICN). You will be met at the airport and shuttled to your hotel in Seoul. Activities for the day depend on the time of your arrival in Seoul.
Day 2: Seoul
Seoul is the capital of South Korea with about 25 million people living in the city and metro area. The Han River flows through the capital area and human settlements along the Han River go back to 4000 BCE. The upper area of the Han River is one of the most popular places for Steller's Sea-Eagle, Scaly-sided Merganser and Whooper Swan in Korea. Though this place is close to Seoul, it's really amazing to be able to see so many kinds of winter birds.
Day 3: Cheorwon
From Seoul we will travel north, getting close to the North Korean border to an area called Cheorwon. We will arrive in the afternoon with time to view many cranes and geese gathering in lakes and fields.
Day 4: Cheorwon
Cheorwon is famous for being the best crane-watching site in East Asia. Cheorwon is very close to the DMZ and we will have special permission to get into the Civilian Control Area and core points. If we are lucky, we can see more than 5 different crane species. It's one of the biggest wintering habitats for Cinereous Vultures.
Day 5: East Coast (northern area)
The east coast becomes a special birding area in winter. Lagoons and coastal area are crowded with many wintering birds, making for beautiful scenery. The environment is quite different from the west coast, so the birds are different. We can see many kinds of raptors, gulls, scoters, ducks, swans and murrelets.
Day 6: East Coast (southern area)
We will explore habitats in a more southern area of the east coast and try to pick up any birds we might have missed on Day 4.
Day 7: Seosan and Cheonsu Bay
Cheonsu-Bay is the most attractive bird-watching site for wintering birds. It's located on the west coast of Chungcheong province. The biggest rice fields are filled with hundreds of thousands of geese and ducks. Oriental Stork, Eurasian Spoonbill and many kinds of raptors can also be found here
Day 8: Geum River Estuary
One of the top 5 birding sites in Korea is the Geum River Estuary. We will focus on Baikal teals in this area; they form huge groups in Korea in winter and over 500,000 at times. If we are lucky, we can see one of the greatest spectacles in the avian world.
Day 9: Seoul
Ganghwa Island is one of the most attractive bird-watching sites along the west coast of Seoul. We can see many kinds of wintering birds including thousands of Bean Geese and a special small group of Red-crowned Cranes in the wetlands. After a day of birding, we will travel back to Seoul.
Day 10: Fly Home
There will be a shuttle to the airport for flights back home.