Japan Birding and Culture Tour of Osaka and Kyoto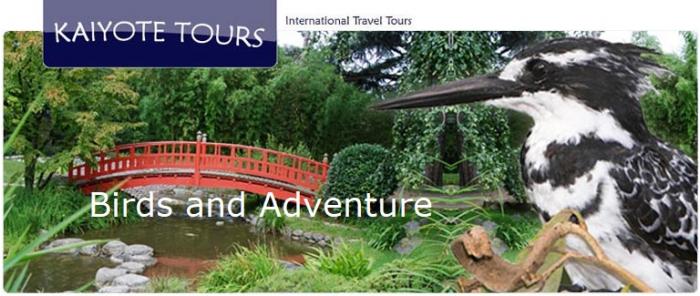 Japan Birding and Culture Tour
Travel Dates: April 6 – 15, 2024
Group Size: 6 people, plus guides
Trip Length: 10 days
Rates: Rate per person = $6,150 (based on double occupancy)
Rates include: Domestic transfers within Japan, lodging, breakfast, lunch, dinner, scheduled group tours, entrance fees, and Allianz travel medical insurance.
Not included: International airfare, customs & immigration fees and visas, alcohol, trip cancellation insurance.
Adventure level: Easy, please check "Welcome" page on the Kaiyote Tours website for definition
Special offer: Included with your trip (one per room) is a copy of the field guide "Birds of Japan", by Mark Brazil. You will receive this when you reserve your trip so you will have time to study the beautiful birds of Taiwan.
Basic Itinerary
Day 1: Arrival in Osaka
Flights are overnight with arrival on day one. Flights arrive at Kansai International airport (KIX) and and you will be greeted at the airport and transported to the hotel in Osaka.
Day 2: Osaka
Birding Osaka Nanko Wild Bird Garden, Osaka Palace Gardens, and a visit to Osaka Museum of Natural History.
Day 3: Osaka
Birding and hiking at Minoh Park, Minoh waterfalls and various locations near Minoh.
Day 4: Kyoto
Osaka Castle Park in the morning, transfer to hotel in the city of Kyoto in the afternoon and Mount Daimonji for an evening walk.
Day 5: Kyoto
Birding Kyoto Imperial Palace, Kyoto Gyoen National Garden and the Kamogawa River area.
Day 6: Kyoto
Toyooka Stork Observation Tower, Maruyama River and viewing birds unique to the Sea of Japan side.
Day 7: Kyoto
A day of birding the Mount Ibuki area and various locations nearby.
Day 8: Nara
Birding the Kohoku Wild Bird Center, the Uji River, and the Ogura Rice Fields. In the afternoon transfer to a hotel in the town of Nara.
Day 9: Nara
Birding Nara Park and Kasugayama Nature Area
Day 10: Fly Home
There will be a shuttle to the airport for flights back to the States.