Guatemala Birding Tours Tikal Copan Mayan Culture Trips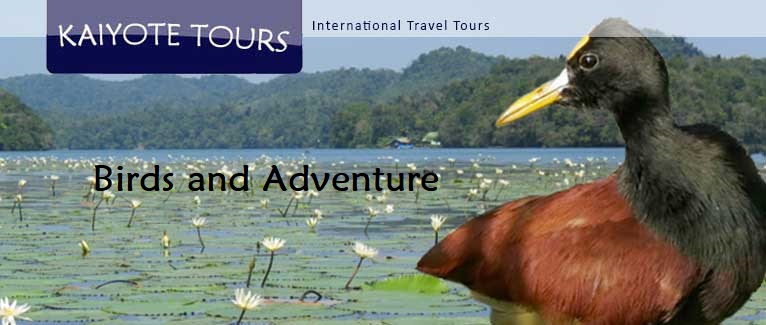 If you are interested in Guatemala Birding Tours Tikal Copan Mayan Culture Trips, come and join us at Kaiyote Tours!
Guatemala, i
ncluding the Copan Ruins, Honduras
Guatemala is beautiful and wonderful; with ancient Mayan ruins, a great variety of birds, wildlife and friendly locals, Guatemala is a place you won't forget. On this trip we will retrace the steps of the Mayans and have some great adventures of our own. This trip starts with a day tour of Guatemala City before heading to Copan Ruinas, Honduras. After that, a few days along the Rio Dulce and then we will head to Tikal, passing through Poptun for a bit of spelunking.
Highlights: 1) Walking through the jungles of Tikal amidst towering ruins, monkeys and birds. 2) Exploring and watching birds along the Rio Dulce. 3) Swimming and walking through beautiful caves.
Printable Bird List
(Checklist of birds that we have seen on this trip)
Travel Dates: Tours by special request
Group Size: 2 - 6 Travelers plus guides
Trip Length: 11 days
Rates: Rate per person = $3,650 (based on double occupancy)
Rates include: Domestic transfers, lodging, breakfast, lunch, dinner, scheduled group tours and park entrance fees.
Not included: International airfare, customs & immigration fees and visas, alcohol and basic travel insurance (which is required).
Adventure level: Moderate, please check the "Welcome" page for definition
Special offer: Included with your trip (one per room) is a copy of either the "Birds of Central America: Belize, Guatemala, Honduras, El Salvador, Nicaragua, Costa Rica, and Panama" (Princeton Field Guides 2018) by Andrew Vallely and Dale Dyer. This book is great, buy large and heavy. Or you can choose, "Birds of Mexico and Central America" (Princeton Field Guides 2006) by Ber Van Perlo. This book is small and travels well. You will receive this when you reserve your trip so you will have time to study and know the beautiful birds of Guatemala.
Map of the travel route here: Guatemala Map (opens a new page, this map you can click on to enlarge)
If you would like to see recent photos click here: Newsletter Archives (opens a new page)
More photos can be found here: Photo Gallery (opens new page)
Basic Itinerary
Day 1: Guatemala City
Flights usually arrive in the evening. You will be greeted at the Guatemala City La Aurora International Airport (GUA) and shuttled to the hotel. Activities for the day will depend on your arrival time.
Day 2: Guatemala City
Today we will visit the historic plaza, the former presidential palace and doing some urban birding while we get to know the city and the parks.
Day 3: Copán, Honduras
It is a 5-hour shuttle ride to the Copán Ruins of Honduras, which are considered some of the most beautiful ruins left by the Mayans. The artwork here is impressive. The Copán ruins area is great for spotting birds. The museum is amazing.
Day 4: Copán, Honduras
Just outside of town is the Macaw Mountain Bird Park. There are parrots and macaws here to interact with. The park is also a beautiful forested area along the river where wild birds can be seen. In the afternoon we will be back at the Copan Ruins in search of birds. There is a beautiful nature trail here.
Day 5: Rio Dulce, Guatemala
It is a Shuttle ride north, back into Guatemala, will take us to the Rio Dulce. We will be staying at the Tijax Lodge; great accommodations on the river and a very special place.
Day 6: Rio Dulce, Guatemala
Today we will have a rainforest tour and then spend the afternoon exploring the trails and country roads around Tijax. This area is abundant with birds
Day 7: Poptun, Guatemala
A 2-hour bus ride will bring us to Finca Ixobel. Finca Ixobel is a working ranch, organic farm and bakery. The food here is a very special treat.
Day 8: Tikal
A 2-hour shuttle ride up the road is Tikal National Park. We will be staying the Hotel Tikal Inn
Day 9: Tikal
We will spend the day touring the ruins, watching wildlife and birds. The monkeys at Tikal are fascinating to watch. There are both Howlers and Spider Monkeys here.
Day 10: Guatemala City
We have an early flight back to Guatemala City, where we will have time to relax and reflect at our hotel before flying back home.
Day 11: Fly Home
There will be a shuttle to the airport for flights back to the States
Please note: The lodging described in this itinerary is always our first choice based on availability. Details of this trip are a little vague as it is VERY flexible. Destinations throughout the trip are based on the desires, ability and goals of the group.