Great Sand Dunes National Park and Preserve
Birding, Hiking, and Backpacking Tour Guides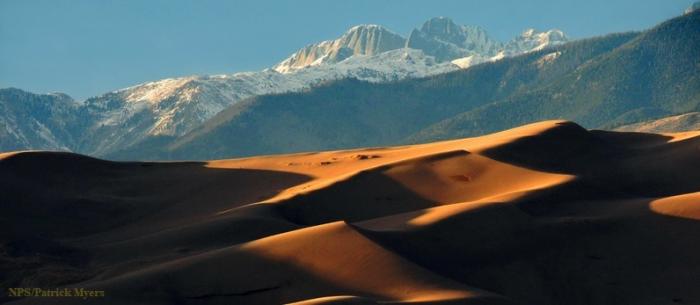 If you are interested in Great Sand Dunes National Park Birding and Hiking tour guides, join us at Kaiyote Tours!
The Great Sand Dunes National Park and Preserve is located in southern Colorado near the town of Alamosa. Also close to Alamosa is the Alamosa National Wildlife Refuge, and the Monte Vista National Wildlife Refuge.
First established in 1932 as a national monument by President Herbert Hoover, the monument was small and mostly was intended to protect the sand dunes, which cover 30 sq. miles (19,200 acres), which is not really a small pile of sand, it is 1.2 cubic miles of sand! The monument was also created to protect the area from mining. In 2004 the area became a national park was expanded to include the adjacent mountains. Great Sand Dunes National Park and Preserve is now 149,028 acres (233 sq. miles). The dunes are the tallest in North America and rise up to 750 from the valley floor. Hiking on the dunes is an amazing experience.
Sand Dune Ecosystems: The sand dunes contain four major components: Mountain watershed (with the mysterious Medano Creek as the outlet), dunefield, sand sheet (flat sandy areas that exist because the sand grains are too big to be lifted to create dunes), and continental sabkha (a flat area of evaporation, wherein minerals become concentrated at the surface.)
Mountain Ecosystems: The mountains are the watershed for the area, occasional rain, but mostly snow provides the water for various habitats. The Medano Creek sometimes will completely disappear beneath the sand, but come springtime and snow melt, the river rises from beneath the sand flats and at times it is a strong rush of cold mountain water. In the mountains there are four life zones: Alpine, sub-alpine, montane, and riparian.
Shrublands, Grasslands and Wetlands: Adjacent to the dunes are the beautiful habitats of grass and shrubs. These unique areas contain flora and fauna species found nowhere else in the park, most of this area has no trails, but can still be explored on foot. From July 15th to February 15th, the Blanca Wetlands are open to the public. These shallow lakes and alkali salt flats are home to resident and migratory birds.
The Great Sand Dunes National Park and Preserve is a high elevation area. The base elevation of the San Luis Valley is about 7,500 feet. The Sangre de Cristo Mountain Range, which overlooks the valley has some of the tallest peaks in Colorado. Eight peaks are over 13,000 feet with Blanca Peak (14,351 feet), being the highest peak in the Sangre de Cristo Range and the fourth highest in Colorado. Crestone Peak (14,300 feet) is the second highest peak in the Sangre de Cristo Range and the seventh highest in Colorado. The lowest point at the Sand Dunes is about 8,100 feet, with trails ascending to nearly 10,000 feet. For this reason, we only offer Private Trips, so your entire group will be similarly acclimated to the altitude. We recommend that you arrive a few days early and stay in Alamosa or Monte Vista (7,500 feet) to help you acclimate. Altitude sickness and fatigue will ruin your trip, so please Plan Ahead and Prepare (Leave No Trace principle #1).
There is more to the Great Sand Dunes than sand!
Birding, Wildlife, Night Sky, Hiking Tours, and Backpacking Tours: Over 250 different species of birds have been identified at the Great Sand Dunes and the park has about 40 miles hiking trails and 4x4 roads, (not including the sand dunes). Most of the hiking is very easy and good for looking for birds and wildlife. I recommend either car-camping at the Pinon Flats Campground or staying at a local hotel in Alamosa or Monte Vista for a multi-day visit to the Sand Dunes.
Mammals include: Pika, yellow-bellied marmot, bighorn sheep, black bear, snowshoe hare, Abert's squirrel, gray and red foxes, cougar, coyote, mule deer, elk, pronghorn, water shrew, beaver, porcupine, kangaroo rat, badger.
Endemic insects include: The Great Sand Dunes tiger beetle, Circus beetle (Eleodes hirtipennis), Werner's beetle (Amblyderus werneri) and Triplehorn's beetle (Amblyderus triplehorni), which are ant-like flower beetles.
Reptiles, Fish, and Amphibians include: Short-horned lizard, fence lizard, many-lined skink, bull snake, garter snake, Rio Grande cutthroat trout, Rio Grande sucker (Catostomus plebeius), fathead minnow, tiger salamander, chorus frog, northern leopard frog, spadefoot toad, Great Plains toad, and Woodhouse's toad.
Overnight Backpacking: The park has three main trails for hiking and backpacking. Backcountry sites are limited along the trails, and there are only seven sites. Our favorite is the Indian Grove site, located amongst the cottonwood trees and ponderosa pines at the base of the dunes. We day hike on the dunes, adjacent trails, and along the 4x4 road.
The First People: Archeological evidence goes back 11,000 years. The Southern Ute tribe were the main inhabitants, but also the Apache and Navaho tribes mention the dunes in their cultural history. In the late 1600's the Spanish arrived and by 1800's explorers and settlers arrived.
When is a good time to visit? The park is open year-round, and the climate is generally dry and sunny year-round. Temperatures vary greatly: Record high is 96 degrees and record low is -25.
Hiking Tours: Hiking on the dunes is an awesome experience, but there are also plenty of trails through the forest as well. There is more to the Great Sand Dunes than sand!
Stargazing, Night Sounds and Sunset: We don't have a telescope, but we love to go into the National Park at night and look for shooting stars, falling meteorites, the Milky-way and orbiting satellites. We will teach you about the constellations of the sky. The mountain sky is truly clear and on a moonless night, you will be amazed about the number of stars in the sky. When the moon is out, it is so bright you can read a book! Nighttime is also a great time for night sounds. Dress warm, the dunes and mountains can be cold at night. Bring a blanket (if you want to lay down to view the stars), bring a flashlight (one with a red-light option is best), and binoculars. You can see a lot with binoculars, including the Andromeda Galaxy. Stargazing, including a sunset walk, lasts about 3-hours, Price is $65 per person.
Call us at 970-556-6103 or email us at KaiyoteTours@gmail.com to book your trip!
Pricing for Full-day Private Tours for Hiking, Birding and Nature Tours:
1 - 3 people = $330, includes lunch, snacks, and water to refill your water bottle. Please contact us for 4 or more people.
Not included: National Park entrance fee. If you already have a pass, please bring it along.
Payment and Cancellation Policy: Full payment is due 72 hours prior to tour. There are no refunds within 72 hours of tour. We accept Visa, MasterCard, Discover, American Express and PayPal.
Suggested to bring for day tours:
1) Backpack for your gear
2) Rain gear or rain poncho or umbrella
3) Refillable water bottle
4) Sunscreen and bug spray
5) Hats for both sun and warmth
6) Binoculars
7) Wear Layered comfortable clothes.
Over-night Backpacking Trips:
$265 per person/per day, (based on a minimum of 2-people), $465 per day for a solo traveler private trip. Backpacking fee includes back-country permit, gear and food. Payment and cancellation policy: At the time of reservation, a non-refundable fee of $20 per person per day is due. The remaining balance is due 3 months prior to the trip and is non-refundable. We accept Visa, MasterCard, Discover, American Express and PayPal. Not included: Transportation to and from trailhead and National Park entrance fee for your vehicle. If you will not have a car, we can possibly make transportation arrangements for you, based on availability.
Included in overnight backpacking fees
1) Tent
2) Sleeping bag
3) Sleeping pad
4) Backpacking pack
5) Bear canister (hanging food prohibited)
6) Stove and fuel
7) Water filter
8) Food: Let us know if you require coffee/caffeine, vegetarian, or anything special.
Although we provide all the necessary gear, you can also bring your own gear.
Kaiyote Tours is authorized by the National Park Service, Department of Interior, to conduct services in the Great Sand Dunes National Park and Preserve.
Private and custom tours at the Great Sand Dunes National Park and Preserve.
Call us at 970-556-6103 or email us at KaiyoteTours@gmail.com to book your trip!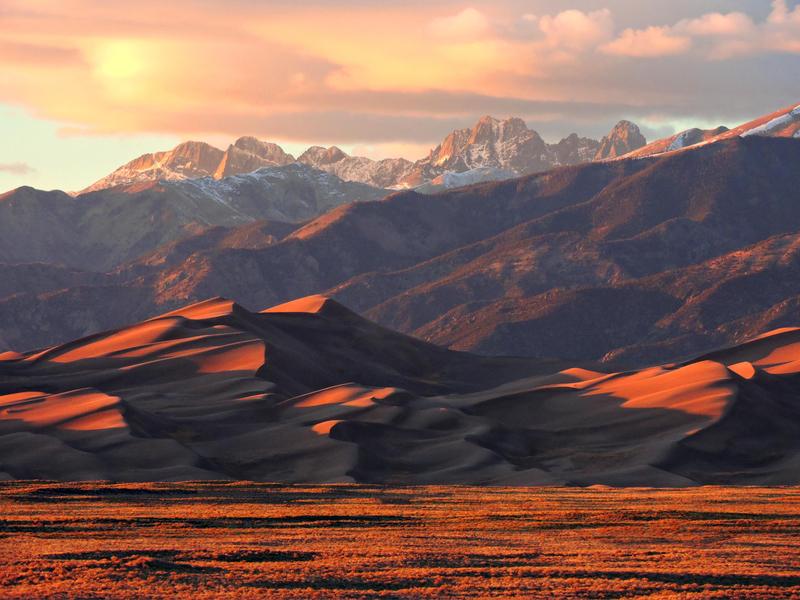 Wow!