Christmas, Winter Solstice, Northern Lights in Iceland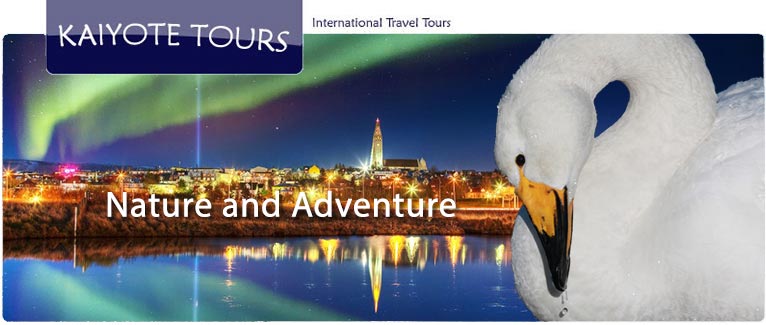 Iceland really is a magical and mystical place. The natural geological wonders, landscapes, birds and ocean life are unforgettable!
Iceland is a great place for walking and experiencing amazing landscapes. We will see marine wildlife, birds and horses. Icelandic horses are especially beautiful. On this trip we will visit Iceland for Christmas. It will be dark a lot of the time, but we will have great opportunities to see the northern lights and an amazing winter landscape. There are links to some of the places that we go to within the daily itinerary schedule. The itinerary is just a brief summary.
We start out this 9 day trip in Reykjavik. This is a great area for birding and walking the shoreline. Reykjavik is also a great city for art and culture. We will also spend two days in a small village called Borgarnes along the west coast. We will spend our last two nights back in Reykjavik.
Highlights: 1) Super-Jeep tour in the back-country. 2) Seeing the Northern Lights 3) Swimming in the Blue Lagoon.
Printable Bird List
(This is a checklist of the birds that we have seen on this trip)
Travel Dates:
December 19 – 27, every year, this is an annual trip!
The weather in December is a combination of sunshine changing back and forth to clouds and snow, in the winter that is pretty much how it goes in the Iceland. The island gets a lot of snow and December is a snowy month. The average high temperatures are in the mid 30'and the average lows are in the upper 20's. On winter solstice, the sun rises at about 11:00am and sets at 4:00pm. There is about 6 hours of light, some of which is a beautiful twilight during midday. Reykjavik harbor is a good to place to look for winter birds. There is also a small lake at the edge of the downtown area where birds congregate.
Group Size:
10 Travelers plus guides
Trip Length:
9 Days
Rates:
Rate per Person = $3,450 (based on double occupancy)
Rate for single = $4,350
Rates are:
Inclusive: Domestic transfers and transportation within Iceland, lodging, breakfast, lunch, dinner, group tours, entrance fees and Allianz deluxe travel health insurance.
Exclusive: International airfare, customs & immigration fees and visas, alcohol, personal expenses such as souvenirs and expenses relating to personal choices during free time, tips for guides.
Detailed Itinerary
Day 1: Fly to Iceland
Flights are usually overnight with arrival on day two.
Day 2: Arrive in Reykjavik
Flights usually arrive in the early morning. We will be flying into the international airport at Keflavik. It is a 45 minute bus ride to Reykjavik from the airport. We will be staying at Eric the Red Guesthouse for the next two nights. A city walking tour is available to visit the Hallgrímskirkja which offers a panoramic view of the city from atop the church tower. Dinner will be at a wonderful restaurant called Laekjarbrekka. After dinner we will be visiting the Harpa Performing Arts Center for a one hour comedy show call "How to become Icelandic in 60 minutes", where you will learn everything you need to know for the upcoming week!
Day 3: Reykjavik
Reykjavik is the capital of Iceland and is rich in maritime history and close to numerous geological wonders. We will visit three museums today: Saga Museum and Aurora Borealis Center where you will learn about Icelandic history and the northern lights and also the Maritime Museum where you will tour a coast guard ship. In the late afternoon we will be taking a boat cruise to see the John Lennon and Yoko Ono Imagine Peace Tower on Viðey Island. Possible dining choice: The Höfnin Restaurant.
Day 4: Borgarnes
In the afternoon it is a one hour drive to the beautiful seaside town of Borgarnes. We will be staying at the Borgarnes B&B in this small village. Today there is free time. You can spend the day walking the shoreline, looking for birds, or relaxing and resting on this day. Dinner will be at the Borgarnes B&B house. Borgarnes is a good location to view the northern lights.
Day 5: Borgarnes
Today will be a full day of Icelandic adventures. We will be taking a Super-Jeep tour of Snæfellsjökull National Park with Thor Photography Adventures. Afterwards, if you'd like, a visit to the local geo-thermal pool for a swim and a soak. Dinner will be at the Settlement Center which is also an award winning museum about the Icelandic Sagas. In the evening we will walk along the shore and look for the northern lights.
Day 6: Reykjavík
In the morning you will have free time. There is an option to go horseback riding at the Oddsstadir Farm if you choose. A bird walk along the shore is included. In the afternoon, we will be travelling back to Reykjavik and staying at Reykjavík Marina Hotel We will visit the Volcano House where you will learn about to very recent volcanic eruptions. There will be an afternoon snack at the very famous Reykjavik Hot Dog Stand and dinner will be at the Fish Market.
Day 7: Reykjavik
On Christmas Day the whole country nearly shuts down for the day. There are a few activities available, but mostly this is a day of rest and relaxation. We will be having our Christmas day dinner at the wonderful Borg Hotel, which was built in 1930.
Day 8: Reykjavik
In the morning we will be visiting the wonderful and amazing thermal pool and spa called the Blue Lagoon. In the afternoon you will have the option to stay at the spa for the day or return to Reykjavik for free time. In the afternoon there is an option to tour of the Hengill geo-thermal power plant, if you choose. There is also an option for a city walking tour to visit the harbor, look for birds and visit the Höfði, which is the building where Reagan and Gorbachev met to end the cold war. Dinner will be at The Grill Market.
Day 9: Fly Home
Flights usually leave in the late afternoon and due to the time change, you will arrive at your home airport "just a few hours later". There will be free time in the morning for visiting the Reykjavik lighthouse, looking for birds, shopping or whatever you like.
Please note: The lodging described in this itinerary is always our first choice based on availability. If we must book with our second choice, the lodging type and style is comparable.