Birding in the Nicaragua Cloud Forest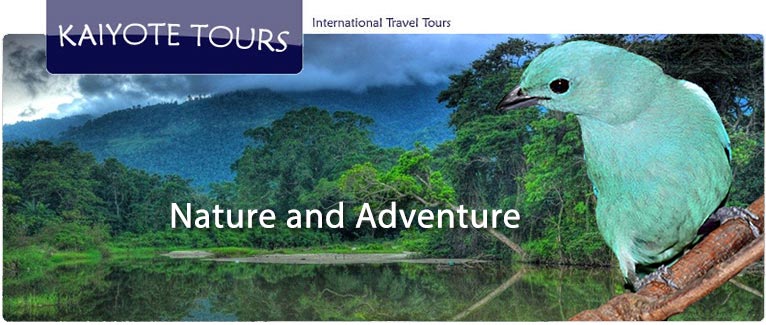 If you are interested in Birding in the Nicaragua Cloud Forest, come and join us at Kaiyote Tours!
On this tour we will be heading up to mountains of Nicaragua, which is also the coffee growing area. You will see and learn about the ecology of the cloud forest and learn about the shade grown sustainable coffee plantation. You will find out that some of the coffee that you have been drinking comes from Matagalpa, Nicaragua. The elevation of this area is from about 2,500 – 5,700 feet. The lodges we stay at are at about 3,500 feet. Managua will have hot temperatures of 90 degrees, but in the cloud forest it will stay much cooler and will be in the low 60's at night.
Highlights:
Sitting on the porch of your cabin watching Violet Sabrewings, which are the largest hummingbird in Central America with a length of 6 inches.
Walking and exploring the mountain trails amongst the huge cloud forest trees.
Nighttime exploring for owls and frogs.
Printable Bird List
(This is a checklist of the birds that we have seen in Nicaragua)
Travel Dates: Tours by request, November through February is the best time to visit
Group Size: 4 - 6 travelers plus guides
Trip Length: 10 days
Rates: Rate per person = $3,650 ($800 charge for single occupancy)
Rates include: Domestic transfers, lodging, breakfast, lunch, dinner, scheduled group tours, park entrance fees and basic travel insurance.
Not included: International airfare, customs & immigration fees and visas, alcohol, trip cancellation insurance.
Adventure level: Moderate, please check the "Welcome" page for definition
Special offer: Included with your trip (one per room) is a copy of the field guide "Birds of Nicaragua" second edition by Lilliana Chavarria-Duriaux, et al. You will receive this when you reserve your trip so you will have time to study and know the beautiful birds of Nicaragua.
Map of the travel route here: Nicaragua Map (this map will enlarge when clicked on, opens a new page)
More photos can be found here: Photo Gallery (opens new page)
Basic Itinerary

Day 1: Managua
Arrival in Managua; flights usually arrive in the evening at the Managua Augusto Cesar Sandino International Airport (MGA), so we will head directly to the Las Mercedes Hotel for a relaxing evening among the pools and gardens.
Day 2: Managua
There are two great birding areas just outside of Managua that we will visit today: Chocoyero - El Brujo Natural Reserve and Montibelli Natural Reserve. These reserves offer great birding and walking and both centers have wonderful porches to sit and wait for the birds to come to you, if you choose.
Day 3: Matagalpa
It is a 2 hour private shuttle ride to the Selva Negra Lodge and Coffee Plantation located in Matagalpa. Matagalpa is the coffee region of Nicaragua. We will be spending three nights here. There are hiking trails, birding tours, coffee tours, farm tours, and great organic food at Selva Negra. You will leave here knowing everything about organic farming and sustainability.
Day 4: Matagalpa
There are about 12 miles of hiking trails at Selva Negra where you can watch birds, small mammals and monkeys. You can also choose to take any or all of the plantation tours or just chill by the pond. At Selva Negra we go exploring at night, so bring a good flashlight.
Day 5: Matagalpa
Selva Negra was founded in the late 1800's by German immigrants and still feels a little like a "Nicaraguan Bavaria" today. There are beautiful little cabins on the hill, covered in vegetation. You can sit on your front porch, amongst the flowers, and the birds will come to you. There is no light pollution here and at night in your cabin, it is so dark that you cannot see your own hand in front of your face, it is amazing.
Day 6: Tuma La-Dalia
It is a 2-hour private shuttle ride to the Hacienda and Ecolodge La Sombra. We will be spending three nights at this lodge. We will be visiting the Cascada waterfall on the way to the lodge. The Cascada waterfall has a trail that goes behind the falls; it is very beautiful. There are birds that nest in the cliffs and along the way we often see sloths.
Day 7: Tuma La-Dalia
La Sombra is located on southern edge of the Bosáwas Nature Reserve. There are many beautiful trails and roads to walk at La Sombra, which is a private, wildlife reserve and coffee plantation. There are waterfalls, rivers, a frog house, a butterfly garden, and nice pools to swim in. This is a small paradise at the edge of one of the largest reserves in Nicaragua. All the food is homemade and traditional.
Day 8: Tuma La-Dalia
We will be taking a day trip to the Massif Peñas Blancas natural area within the Bosáwas Biosphere Reserve. Over 700 different species of birds have been identified in the reserve. The highest peak in Nicaragua is located here with an elevation of 5,725 feet.
Day 9: Managua
A 3-hour private shuttle ride will get us back to Las Mercedes in Managua where we will spend the rest of our day relaxing among the gardens, swimming, and looking for birds. On the way back to Managua, we will stop in the city of Matagalpa for shopping at artesian craft markets. In Managua, across from the hotel at the airport is excellent shopping as well.
Day 10: Fly Home
Flights usually leave in the morning, so getting to the airport and getting home is our only activity for the day.
Please note: The lodging described in this itinerary is always our first choice based on availability. Details of this trip are a little vague as it is VERY flexible. Destinations throughout the trip are based on the desires, ability and goals of the group.