Birding and Wildlife Tour Sarawak Borneo Malaysia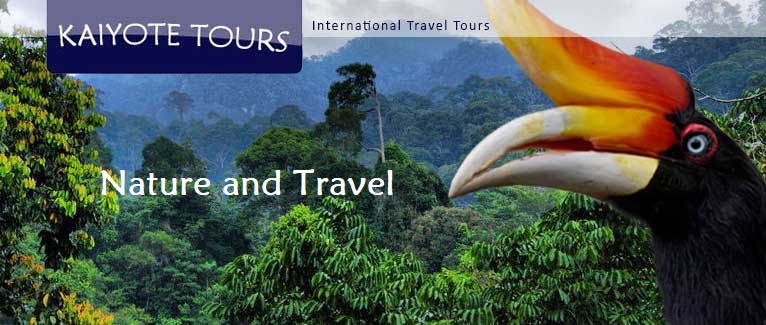 If you are interested in the Birding and Wildlife Tour Sarawak Borneo Malaysia, come and join us at Kaiyote Tours!
Birds and Wildlife of Sarawak, Borneo
We are offering a very special trip to Sarawak, Borneo and this is definitely a trip of a lifetime! On this trip we will be traveling via boat and boots deep into the Borneo jungle to see and experience pristine rainforest habitat abundant with flora and fauna. Borneo is one of the last areas that is home to wild orangutans. This trip will be an adventure and all participants need to be in good hiking shape. The trails are slippery, muddy, rocky and we will be crossing and traveling through numerous creeks and rivers. There are plenty of insects, including leaches and so everyone will need to be prepared to handle this true adventure. The hike from the jungle lodge to the jungle base camp is a 640 foot elevation gain and you will need to be able to carry your basic gear in a backpack. This trip will make you feel like a real explorer and we are only taking four people for this very special trip!
The island of Borneo is about the size of Texas. The island is home to three separate countries: Indonesia, Malaysia and Brunei. Sarawak is located on the northern part of Borneo and is a state of Malaysia. Sarawak is rich in tropical rainforest, mountains and stunning coastal areas. Sarawak is lightly larger than the state of Florida and maintains 30 national Parks to protect distinct habitats and life zones for 185 species of mammals, 530 species of birds, 166 species of snakes, 104 species of lizards, and 113 species of amphibians including coral reefs and marine life. Sarawak in an excellent place to view Orangutans in the wild and the Rhinoceros Hornbill is the national bird. There will be time for cultural activities and we will be visiting three main National Parks: Santubong National Park, Batang Ai National Park, Kubah National Park and many other reserves and wetlands for birds and wildlife viewing. Our bird and wildlife tour, led by experienced and knowledgeable local guides, starts in the city of Kuching, where we will visit beautiful wetlands full of birds and wildlife.
Printable Bird List
(Checklist of birds that we have seen on this trip)
Travel Dates: October 3 – 12, 2020
Group Size: 4 travelers plus guides
Trip Length: 10 days
Rates: per person = $3,450 (based on double occupancy)
Rates include: Domestic transfers and transportation, lodging, breakfast, lunch, dinner, group tours and park entrance fees.
Not included: International airfare, customs & immigration fees and visas, alcohol and basic travel insurance (which is required).
Adventure level: Adventurous, please check "Welcome" page for definition
Special offer: Included with your trip (one per room) is a copy of the field guide "Birds of Borneo: Brunei, Sabah, Sarawak, and Kalimantan" (Princeton Field Guides) by Susan Myers. You will receive this when you reserve your trip so you will have time to study and know the beautiful birds of Sarawak.
Map of the travel route here: Sarawak Map (opens a new page)
If you would like to see recent photos click here: Newsletter Archives (opens a new page)
More photos can be found here: Photo Gallery (opens new page)
Basic Itinerary
Day 1: Arrival in Kuching, Sarawak
There are no direct flights to the Kuching International Airport (KCH); most flights depart from Kuala Lumpur (KUL) which is the capitol of Malaysia. Flights from the states are overnight and include crossing the international dateline, so be sure to schedule your flight to arrive in Kuching on October 3rd, which is usually 1 - 2 days after the departure date. You will be greeted at the airport and transported to the hotel in Kuching. Activities for the day will depend on your flight arrival.
Day 2: Kuching
Kuching is the capitol of Sarawak and with a population of 325,000, it a nice size city with a lot of great food and culture. Sarawak is located just north of the equator and has a tropical environment where the temperatures are consistent throughout the year. The winter months are rainier than the dry season of the summer. Early October is a perfect time to visit before the rains start. Just outside the city is the Kuching Wetlands National Park. This day will have time for both birding and getting to know some history about Sarawak. Bako Buntal Bay and National Park is an important migratory site for over 25,000 birds. October is an excellent time to see Grey-tailed Tattler, Lesser Adjutant, Chinese Egret, Nordmann's Greenshank and Far Eastern Curlew. Kubah National Park is just 30 minutes outside of Kuching and this beautiful lowland forest is home to numerous endemic birds including the Bornean Banded Kingfisher, Bornean Wren Babbler and Blue-banded Pittas.
Day 3: Batang Ai National Park
About a 5-hour drive from Kuching is Batang Ai National Park. On the way we will stop at local markets and other special locations important to the people of Sarawak. Once we arrive at Batang Ai, we will travel by boat across the reservoir and here will be the best chances to see wild orangutans. The jungle here is pristine and full of wildlife and amazing plants. We will arrive late in the day and we will be staying just outside the park at a jungle lodge, which is primitive but nice.
Day 4: Batang Ai National Park
This day is the start of our 3-day trek in the jungle to find birds, wildlife and orangutans. Most of the trekking is on a scale of "moderate" difficulty, but because the trails can be muddy and slippery, you will need to be in good physical shape and cable of handling the terrain. You need to be a good hiker, who can carry their own gear in a backpack. Along the way there are bugs and leaches. This is what many would call a trip of a lifetime, hiking through the Borneo jungle. The daily hikes are about 3 - 4 hours on the trail. We will stay deep in the rainforest at a jungle base camp. There is a 640 foot elevation gain to get to this camp.
Day 5: Batang Ai National Park
The Batang Ai area is home to the most significant population of wild orangutan in Sarawak. There are opportunities to spot pig-tailed macaques, hornbills and a variety of other birds as well. It may be humid and hot in the jungle but there is plenty of refreshing clear water as well: swim in the waterfalls or the river to cool off. Many lowland bird species reside at Batang Ai: Garnet Pitta, Rail Babbler and Bulwer's Pheasant. Lodging will be a second night at the base camp.
Day 6: Batang Ai National Park
On this day we will hike back to the jungle lodge, spending the day looking for birds, wildlife and orangutans. Every day there will be opportunities to interact and meet the people of the Iban tribe. Some of the trackers for our trip will also be from the local tribe.
Day 7: Damai Beach
In the morning we will travel to Damai Beach to spend some time along the seashore. This area is just outside Santubong National Park, which is a beautiful and rugged lowland forest of sandstone and tall rainforest trees and amazing coastal habitats. We will spend time walking the land from the sandy beaches to the mountainous rainforest.
Day 8: Damai beach
There are many options for the day's activities and depending on the weather, there might be options for diving and snorkeling and of course time for birding, hiking and swimming. Damai is a 45 minute drive from Kuching.
Day 9: Kuching
The city of Kuching is surrounded by numerous national parks and reserves. About an hour drive south of Kuching, near the Indonesia border is the Borneo Highlands and Mount Penrissen raising to 4,200 feet. Here is one of the best places to see the White-crowned Hornbill and the Mountain Serpent-Eagle, as well as sub-montane endemics such as Pygmy White-eyes, Chestnut -crested Yuhinas and the Borneo Barbet. After a day of birding and wildlife viewing, it is back to Kuching for great food and lodging. There will also be a stop along the way to visit Semenggoh Nature Reserve for birding. By the late afternoon, we will be back in Kuching to get ready for the flights home.
Day 10: Fly Home
There will be a shuttle to the airport for flights back home.
Please note: The lodging described in this itinerary is always our first choice based on availability. Details of this trip are a little vague as it is VERY flexible. Destinations throughout the trip are based on the desires, ability and goals of the group.