Rocky Mountain National Park
Estes Park and Grand Lake, Colorado
Backpacking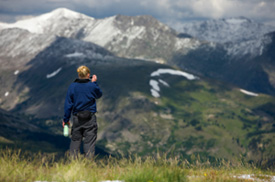 There is nothing more wonderful than waking up in the back-country. Mountain mornings are cool and calm. Night skies are brilliant with stars and the air is quiet. To awake next to a high mountain crystal clear lake or stream is an incredible experience.
Rocky Mountain National Park has 359 miles of hiking trails! Covering 416 square miles, the park contains some of the most spectacular mountains and tundra in North America. Over 300 different species of birds have been identified. Elk, Moose and Coyotes can be seen openly roaming the meadows, while Bears, Mountain Lions and Bobcats are some of the more elusive predators we find in the forested areas. Little critters like Marmots, Chipmunks and Ground Squirrels are abundant. During the summer, the colorful wildflowers and tundra plants are stunning.
Kaiyote Tours is authorized by the National Park Service, Department of Interior, to conduct services in Rocky Mountain National Park.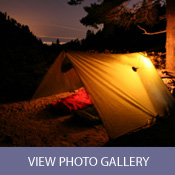 How many nights?
One night (two days): Will be a perfect easy trip to a close location or a more difficult trip to a farther location. It is possible to backpack one way across the Park.
Two nights (three days): Gives you time to get to a remote location. We suggest spending both nights at the same location. The second day will be spent day hiking and exploring the lakes and peaks of the back-country or just chillin' by a mountain lake or stream. The third day we hike out. It is also possible to backpack one way across or loop through the Park.
Three nights (four days): You can spend all nights in the same location or loop through the park.
Loop trips: Three – six nights. There are some excellent loops that start at either Bear Lake or Grand Lake.
Remember: The longer the trip, the heavier you pack will be in the beginning because of food. For trips that loop through Grand Lake, we re-supply there for the additional days.
Click here for a printable list of some of our favorite backcountry camping sites.
Concerned about carrying a heavy pack?
If you want to go backpacking and are concerned about the weight, you can have your gear hiked in and out to the campsite for you by a porter. Our porters can carry 50 – 60 pounds. One porter can carry the gear for almost two people or a porter can lighten the load for a group in general. It is best to figure on having one porter per two people, if no one wants to carry too much weight. The cost is $115 each way per porter. You can hire a porter for only one way if you want. The porters do not camp in the back country, but hike in and out on the required days.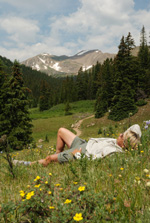 Pricing – Private over-night trips
One person: $265 per day
Two or more people: $165 per person/per day
Backpacking fee includes back-country permit and entrance fee into RMNP.  
Included in fees
1) Tent
2) Sleeping bag
3) Sleeping pad
4) Backpacking Pack
5) Bear Canister (required, no hanging of food)
6) Stove and fuel
7) Water filter
8) Food: Let us know if you also require coffee/caffeine, vegetarian or anything special.
9) Day pack
10) Bug Spray and Sunscreen
11) Rain Poncho
12) Headlamp
Although we provide all the necessary gear, you can also bring your own gear.
Requirements
Please remember that our trips usually begin at 8,500 feet and some go as high as nearly 12,500 feet. Please sign up for a trip that best suits your abilities.
Think carefully about what you bring
It is always a fine line between bringing all that you need and bringing too much stuff. Don't over load your pack!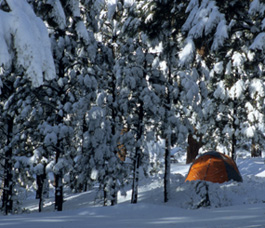 Personal items required to bring (not included)
Required to bring:
1) Medications and/or Epi pen that you require
2) Durable water bottle; 1 liter
3) Sunscreen lip balm
4) Hat for sun
5) Hat and mittens/gloves for warmth
6) Sunglasses
7) Small personal emergency kit
8) Toiletries, like toothpaste and deodorant, in travel sizes
Suggestions:
1) If you want to fish, you will need a Colorado fishing license. Let us know in advance.
2) Camera
3) Compact binoculars
4) Swimsuit (for a 3 minute swim in very cold water)
Clothes needed:
1) Warm base layer, top and bottoms for sleeping. Like Smartwool underwear.
2) Short and long sleeve shirt.
3) Shorts and light weight pants.
4) Light weight fleece
5) Wind/rain pants and jacket. Gortex outer shell is recommended.
6) Hat, gloves and neck gaiter. Frost, even snow, is possible in the summer.
7) Boots: Must be already broken in! Blisters will absolutely ruin and put an early end to your back-country trip. Hiking boots need to go above your ankles because this will support and protect your ankles from injury. Sprained ankles are the most common injury in the park.
8) Extra socks.
9) Extra underwear.
! Important: The comfort and care of your feet is of the utmost importance. Do not skimp or cheat yourself.
Questions:
1) Does anyone in your group require caffeine in the morning? If so, in the form of coffee?, Tea? Energy drinks?
2) Does anyone in your group have severe allergies to any type of food or insect stings/bits?
3) Is anyone in your group a vegetarian or have special diet requirements?
4) Are there any foods you especially hate or especially love or are you open to all types of food?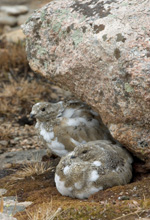 If you have a Park pass or valid entrance receipt, please bring it along. If you do not have a pass, you will need to purchase a $20 vehicle pass at the entrance gate the day of the hike if you are driving. The pass will be good for 7 days. If you are riding in our vehicle and do not have a pass, you have an option to purchase a $10 one-time entrance pass or a regular $20 pass.
Directions
Printable directions to The Beaver Meadows Visitor Center at Rocky Mountain National Park on Highway 36
Kaiyote Tours Backpacking Policies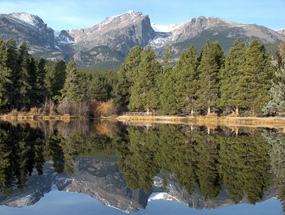 Payment and cancellation policy
A $200 per day deposit is due 21 days before the departure date and is non-refundable. The remaining balance is due 7 days before departure date and is non-refundable. We accept Visa, MasterCard, Discover and American Express.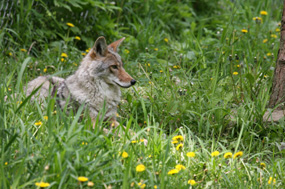 Site Map
|
Contact Us