Birding Argentina

Buenos Aires, Corrientes and Misiones
Our trip to Argentina is our most mellow and relaxing trip.  We don't cover a lot of ground, but the places we visit are very dense with wildlife and beauty. This trip focuses on birds, insects and wildlife.  Argentina is a wonderful country to visit.  Covering nearly 2,200 miles from north to south, Argentina can offer a lot to a traveler. 
This trip starts with a night in Buenos Aires before we head out the Missiones and Corrientes Provinces, which are full of pristine neo-tropical rainforest and preserved marshlands. 
Highlights:  1) Boating through the marshes of the Ibera.  2) Relaxing on the front porch of your cabin at Posada de la Laguna listening to Southern Screamers.  3) Watching birds and butterflies at La Bonita and swimming in the waterfall pool. 4) Attending a tango show in Buenos Aires.  5)  Seeing the stars of the southern hemisphere. 
Printable Bird List
(This is a checklist of the birds that we have seen on this trip)
Travel Dates: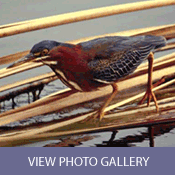 November 17 – December 2 Every year, this is an annual trip!
Group Size:
8 Travelers plus guides
Trip Length:
16 days
Rates:
Rate per person = $4,350 (based on double occupancy)
Rate for single = $5,250
Rates are:
Inclusive: Domestic flights within Argentina, transfers, lodging, breakfast, lunch, dinner, scheduled group tours, entrance fees and Allianz  deluxe travel health insurance.
Exclusive: International airfare, customs & immigration fees and visas, alcohol, personal expenses such as souvenirs and expenses relating to personal choices during free time, tips for guides and staff.

Detailed Itinerary

Day 1:  Buenos Aires (fly day)
Flights are usually overnight flights with the arrival on the following day in the morning. 
Day 2:  Buenos Aires (arrival day)
After our morning arrival in Buenos Aires, we will spend the day touring the city.  Buenos Aires is a great city for walking.  Buenos Aires has a population of 12 million people and the city is a major port at the mouth of the Rio de la Plata on the Atlantic Ocean.  We will be staying in the city center, close to all the sites at the Hotel Reina.   
Day 3:  Buenos Aires (birding & adventure day)
There are several good parks for birding in Buenos Aires.  We will be spending the day birding at Reserva Ecológica Costanera Sur. Over 200 species of birds have been identified in this beautiful marshland and park.  In the evening, its dinner and a tango show!   
Day 4:  Posadas (travel & birding day)
We will be flying (1.5 hours) to the city of Posadas.  In Posadas we will be staying at La Aventura at the edge of town on the Rio Paraná.  The Rio Paraná is one of the major rivers that flow to the delta at Buenos Aires. There are 7 wooded acres here along the river.
Day 5:  Posadas (birding & adventure day)
Just outside of the city of Posadas is some very beautiful countryside.  We will be visiting several different types of habitats in search of birds. 
Day 6:  Ibera (travel & birding day)
This day is always a potential day for a good adventure.  The road from Posadas to Esteros del Ibera is about 120 miles of red dirt road.  There is a lot to see along the way, including Greater Rheas, Jabirus and the Maguari Stork.  This drive will take about 3 hours, unless it rains….  Our accommodations will be at Posadas de la Laguna. 
Day 7:  Ibera (birding & adventure day)
The Ibera is a vast marshland with open water covering about 3.2 million acres and is abundant with birds, caimans, deer, capybara, frogs, snakes and monkeys.  It is the second largest wetlands in the world.  Daily we will be taking the boat out to see what we can find.  Just in this area we might see 150 different species of birds. 
Day 8:  Ibera (birding & adventure day)
The Posada de la Laguna is located at the edge of a small village called Colonia Carlos Pelligrini.  It is a nice area to walk around to find neighborhood birds.  Posada de la Laguna is a wonderful lodge with excellent gourmet food.  It is a very relaxing place with all the finer aspects of travel, but literally out in the middle of nowhere. 
Day 9:  El Soberbio (travel & leisure day)
From the Ibera it is about a 6 hour drive through a very pretty countryside to El Soberbio.  Just outside this small town is a large area of preserved subtropical rainforest.  This area called Reserva de Biosfera Yaboti & Esmeralda has an abundant and diverse wildlife population including Jaguars and we have seen the paw prints!  We will be walking the trails and roads around La Bonita.  There is a lot of birds and wildlife to see here.  The food and atmosphere here is wonderful and peaceful. 
Day 10:  El Soberbio (birding & adventure day)
We will be staying at Posada la Bonita.  Beautiful stone cabins at the edge of a deep forest.  Down the side of the hill you will find a 50 foot waterfall that pours into a pool.  It is fun to swim in the natural pool, as little fish nip at your toes!! 
Day 11:   San Pedro (travel day)
We will spend the day looking for birds in the Yaboti Reserve.  It will be a slow 8 hour drive from La Bonita to San Pedro as we take our time to see this beautiful reserve.
Day 12:  San Pedro (birding day)
We will be visiting the Cruce Cabaliero Provincial Park to add a few additional birds to our list.  Our birding guide for the day is Guy Cox. 
We will be staying at Cabañas Los Suizos.
Day 13:   Iguazu (birding & adventure day)
It is a 4 hour bus ride from San Pedro to Iguazu.  Iguazu Falls is a very special and incredibly spectacular place.  We will be staying at the Hotel La Sorgente. 
Day 14:   Iguazu (birding & adventure day)
Today you will have an opportunity to walk within the mist of the falls and hike the trails.  Great Dusky Swifts will be flying in and out of the falls.  There are a lot of beautiful trails to explore in this area.  You will find curious monkeys and toucans along the way.
Day 15:  Buenos Aires (travel & leisure day)
We will be flying back to Buenos Aires, about 2 hours.  We will be staying in the city center at the Rochester Classic Hotel.

Day 16:  Fly day
Flights back to the States usually leave late in the evening so we will be leaving Buenos Aires on this day. 
Please note:  The lodging described in this itinerary is always our first choice based on availability.  If we must book with our second choice, the lodging type and style is comparable.
Site Map
|
Contact Us