Cambodia Birding Tours Culture Trip Siem Reap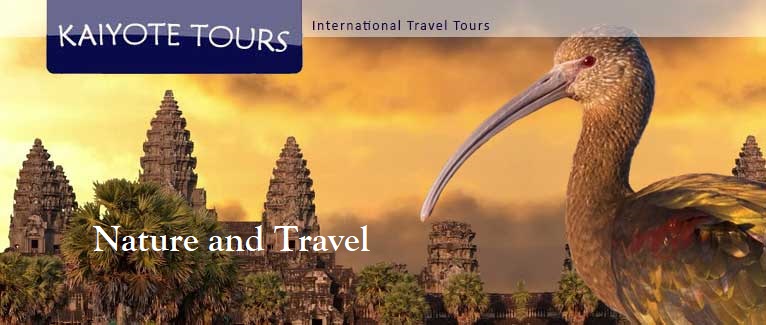 If you are interested in Cambodia Birding Tours Culture Trip Siem Reap, come and join us at Kaiyote Tours!
Cambodia Birding and Culture Tour
The Best Cambodia Birding Tour for Responsible Ecotourism and Wildlife Conservation & Local Communities. Our Cambodian leaders selected for this tour to explore important areas for viewing Cambodia target species including Giant Ibis, White-shouldered Ibis, Bengal Florican, Milky Stork, Greater Adjutant, White-winged Duck, Red-headed Vulture, Slender-billed Vulture, White-rumped Vulture, Mekong Wagtail, Green Peafowl, Cambodian Tailorbird and many other birds and mammals, with approximately 300 species expected on the list. The will be great birding and photography opportunities and visiting significant cultural and historical sites as well.
Printable Bird List
(Checklist of birds that we have seen on this trip)
Travel Dates: Tours by Request
Group Size: 8 Travelers plus guides
Trip Length: 10 days
Rates: Rate per person = $3,850 (based on double occupancy)
Rates Include: Domestic transfers, lodging, breakfast, lunch, dinner, scheduled group tours and park entrance fees.
Not included: International airfare, customs & immigration fees and visas, alcohol and basic travel insurance (which is required).
Adventure level: Moderate, please check the "Welcome" page for definition
Special offer: Included with your trip (one per room) is a copy of the field guide "Birds of Southeast Asia" (Princeton Field Guides) by Craig Robson. You will receive this when you reserve your trip so you will have time to study and know the beautiful birds of Cambodia.
Map of the travel route here: Cambodia Map (opens a new page)
If you would like to see recent photos click here: Newsletter Archives (opens a new page)
More photos can be found here: Photo Gallery (opens new page)
Basic Itinerary
Day 1: Arrival in Siem Reap
Most flights to Cambodia are over-night, so schedule your flight to arrive on Day 1 of the tour. Your will fly into the Siem Reap International Airport (REP) and we will meet you at the airport and there will be a shuttle to the hotel.
Day 2: Siem Reap
Phnom Krom marshland is considered our best birding site to spend for a few hours in the countryside, located about 10-km south from Siem Reap town. This open marshland with paddy fields, ponds, bushes, and grassland, stretches at the edge of the Great Tonle Sap Lake is great for visitors to find many common bird species including the water birds and waders. About 40 species of common bird species usually be seen during this few hours tour.
Day 3: Kbal Spean
Kbal Spean is an Angkorian era archaeological site in the western part of the Kulen Mountain Range. A dry Deciduous Forest close to Kbal Spean is good for a few hours birding. Birds include Banded Broadbill, Hainan Blue Flycatcher, Green-eared Barbet, Rufous-winged Buzzard, White-throated Rock-thrush, Black Baza, Crested Serpent-eagle, Great Slaty Woodpecker, White-bellied Woodpecker, Velvet-fronted Nuthatch.
Day 4: Angkor Wat and Angkor Thom
The forests surrounding the temples support some good birds such as Hainan Blue and Taiga Flycatchers, Forest Wagtail, White-throated Rock Thrush, Black-capped Kingfisher, Asian Barred Owlet, Black Baza, Alexandrine, and Red-breasted Parakeets.
Day 5: Prek Toal Bird Sanctuary
This stunning Ramsar site, the largest water bird colonies in Southeast Asia covered mostly by seasonally inundated freshwater swamp forest, is home to the rare water birds of global significance: Spot-billed Pelican, Milky Stork, Painted Stork, Lesser Adjutant, Greater Adjutant, Black-headed Ibis, Oriental Darter, in the dry season.
Day 6: Ang Trapeang Thmor
The feeding reserve for the tallest flying bird Sarus Crane, six species of ducks, 4 species of owls, Black-necked Stork, Purple Swamphen, Bronze-winged, Pheasant-tailed Jacana, Spot-billed Pelican, Greater Spotted Eagle, Milky Stork, Painted Stork, Oriental Plover.
Day 7: Florican Grassland
The grassland supports Critically Endangered Bengal Florican, the rare wintering Manchurian Reed-warbler, Sarus Crane, Greater Spotted Eagle, and Imperial Eagle, Pied Harrier and Eastern Marsh-harrier, Siberian Ruby Throat, Red Avadavat, and Small Buttonquail.
Day 8: Tmatboey
The most significant ground for the critically endangered Giant Ibis, White-shouldered Ibis, also Pale-capped Pigeon, Woolly-necked Stork, Indian Spotted Eagle, Grey-headed Fish Eagle, White-rumped Falcon, Savanna Nightjar, 16 species of woodpeckers, 9 species of Owls.
Day 9: Kampi - Mekong
An exciting boat trip on the Mekong River to see the fascinating Irrawaddy River Dolphin and going upstream to the islands to look for the recently-described Mekong Wagtail. Late afternoon travel back to Phnom Penh. Tailorbird shrub: a dense of bushy shrub-land area favored by the Cambodian's endemic bird called Cambodian Tailorbird.
Day 10: Fly Home
There will be a shuttle to the airport for flights back home.
Please note: The lodging described in this itinerary is always our first choice based on availability. Details of this trip are a little vague as it is VERY flexible. Destinations throughout the trip are based on the desires, ability and goals of the group.